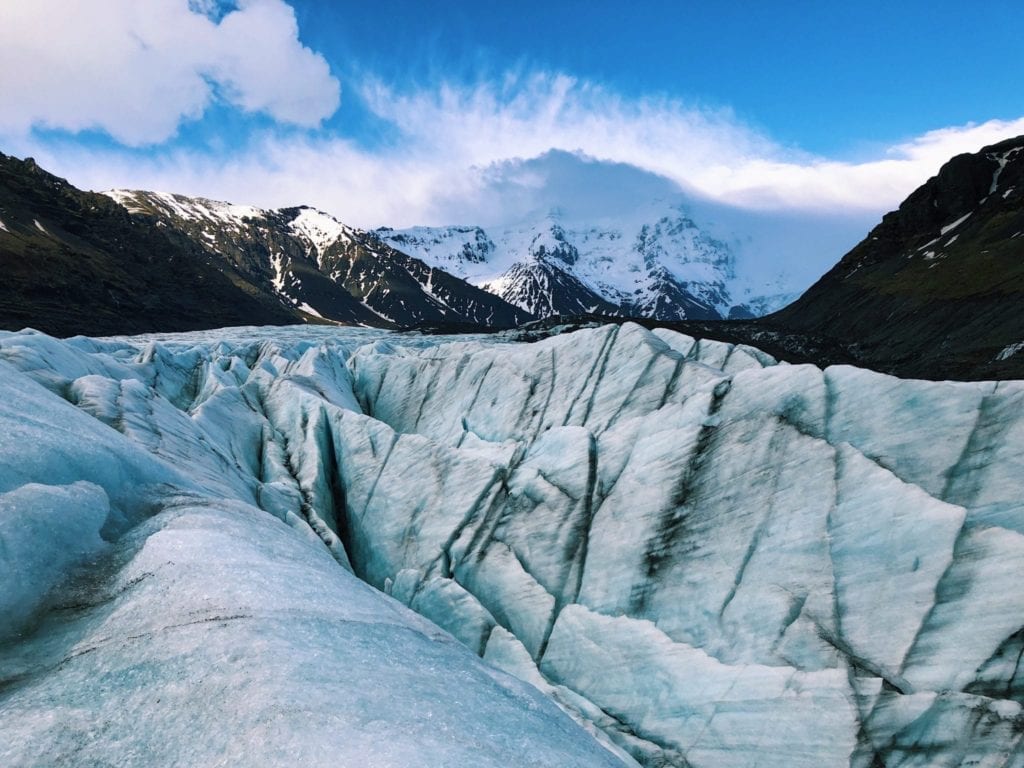 Skaftafell and its surrounding area has been gaining popularity over the past few years. Due to its stunning nature and otherworldly scenery, Vatnajökull and its outlet glaciers have been used for shooting many movies and TV Shows and have even earned the name of the 'Hollywood Glacier'. Skaftafell is a beautiful area and Vatnajokull is a national park for a good reason. It has been nominated to be included in the World Heritage List of UNESCO, so it is our duty to protect it to be able to enjoy it for the next decades.
1. Where is Skaftafell and what is it?
Skaftafell is located on south-east coast of Iceland, some 300 km east from Reykjavík by Route 1 and 136 km west of Höfn in Hornarfjörður. It′s also close to the well-known glacier lagoon Jökulsárlón, but from Route 1 there are only 2 km to Skaftafell Visitor Center. Skaftafell is known for its natural beauty where travelers can enjoy hikes in forested areas and visit impressive waterfalls along with its close proximity to Vatnajökull, Iceland′s biggest glacier and in fact Europe′s biggest glacier. Nowadays Skaftafell is part of the national park that takes its name from Vatnajökull. Skaftafell is also a popular spot for travelers visiting the glacier and do a glacier hike from there.
The Vatnajökull National Park is an extensive park that covers the Skaftafell area, the glacier Skeiðarárjökull which forms part of Vatnajökull and other parts of Vatnajökull. Skaftafell is therefore the main center for visiting the glacier and for hiking trails close by, where travelers can see breath taking views of the glacier and its surroundings.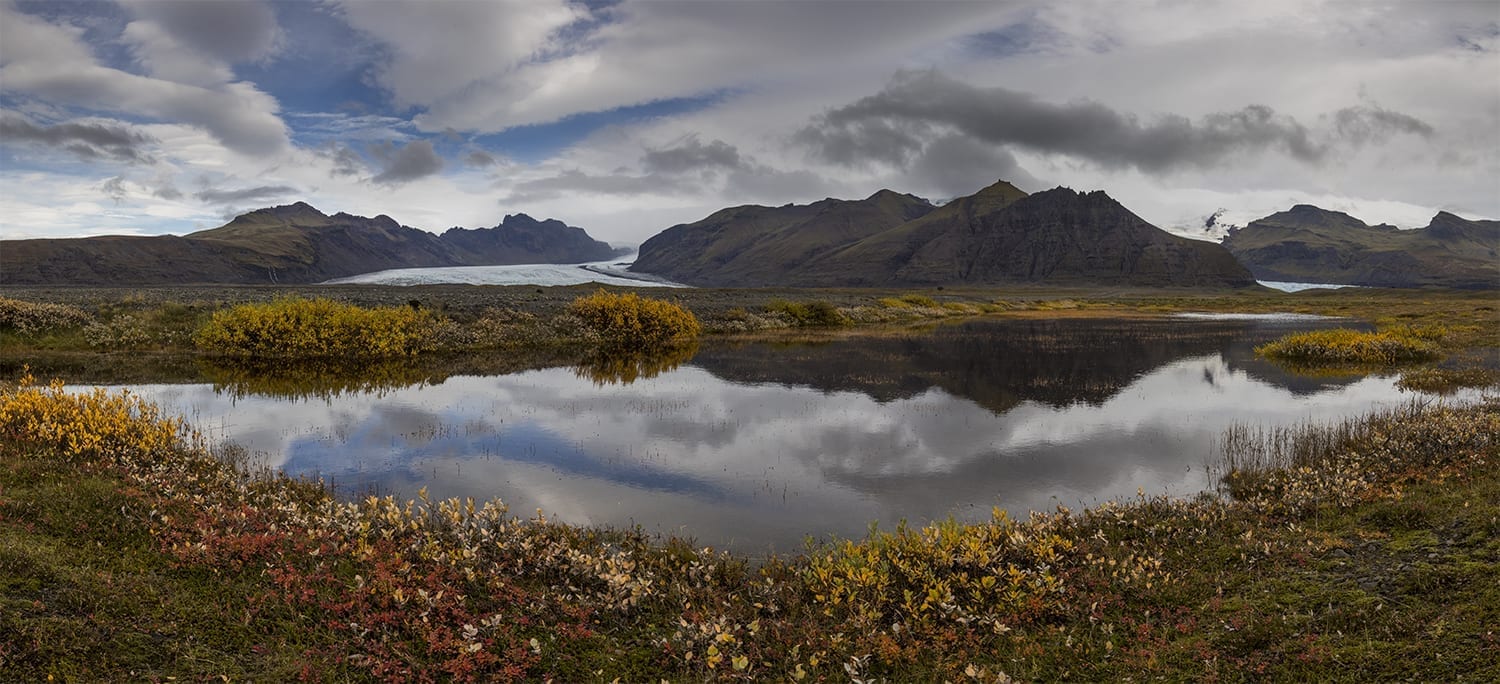 2. How to get to Skaftafell and Vatnajökull area
Getting to Skaftafell is easy because you can drive there from Reykjavík in your own car or in a rental car which would take a bit over four hours driving. It is also possible to take the public transport bus there but then the journey would take around 6-7 hours with line 51 from Mjódd. More information on the bus system can be found here (bus.is). If you are going the whole Route 1, then you can also reach Skaftafell from the North. From Akureyri the driving takes 7 ½ hours so we recommend stopping on the way in one of the beautiful towns in the North East of Iceland or at the lake Mývatn.
3. Services and accommodation in Skaftafell
During the summer there is cafeteria operated in Skaftafell which offers hot soups, sandwiches, cakes and coffee, along with some dairy products, bread, biscuits and fruits. The nearest super market is located in Kirkjubæjarklaustur (called Klaustur for short) which is 70 km west of Skaftafell or to the east in Höfn, some 140 km away, so make sure you have done most of your shopping in these towns before heading to Skaftafell and Jökulsárlón.
If you forget you can always visit the restaurant in Freysnes, which is only 5 km away from Skaftafell.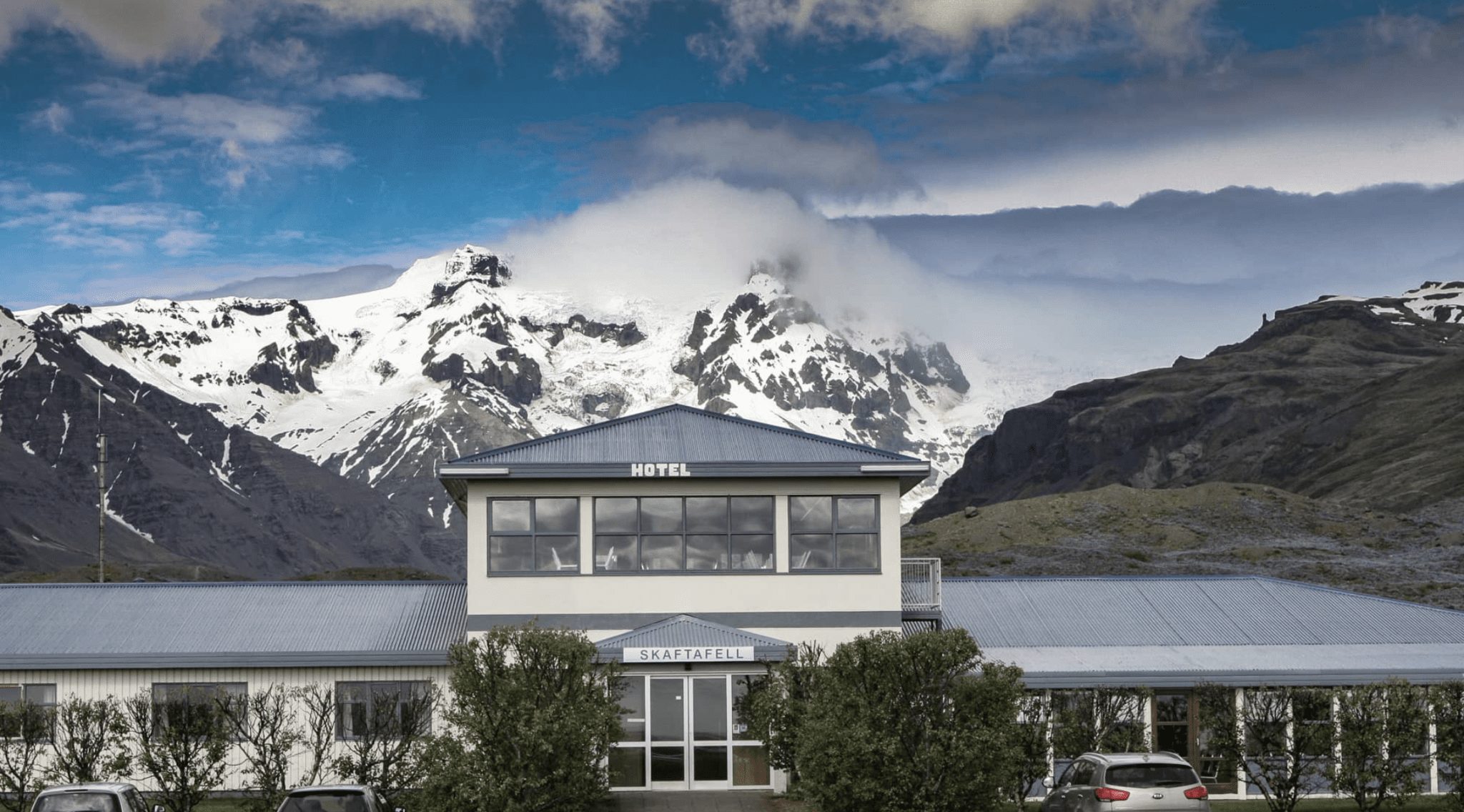 4. What to do in Skaftafell
4.1. Glacier activities
You can take the 3-hour tour (click HERE) to get to know the glacier. However, if you are interested in something longer, but not overly challenging, especially if you have some experience going hiking. A good idea for those more adventurous is to check the 5-hour glacier hiking and gets you to explore way higher up on the glacier (click HERE).
Obviously, Global Warming is having a big impact in Icelandic glaciers, but glaciers are still there! So, no worries! It's always nice to try something completely different like an ice climbing and hiking tour (click HERE) in the summer.
In the winter though, the most popular activity is ice caving. Every winter season there are blue ice caves appearing on the different outlet glaciers. Next time you go, check out the Blue Ice Cave (click HERE) and revisit the glacier and one of the rarest natural phenomenon.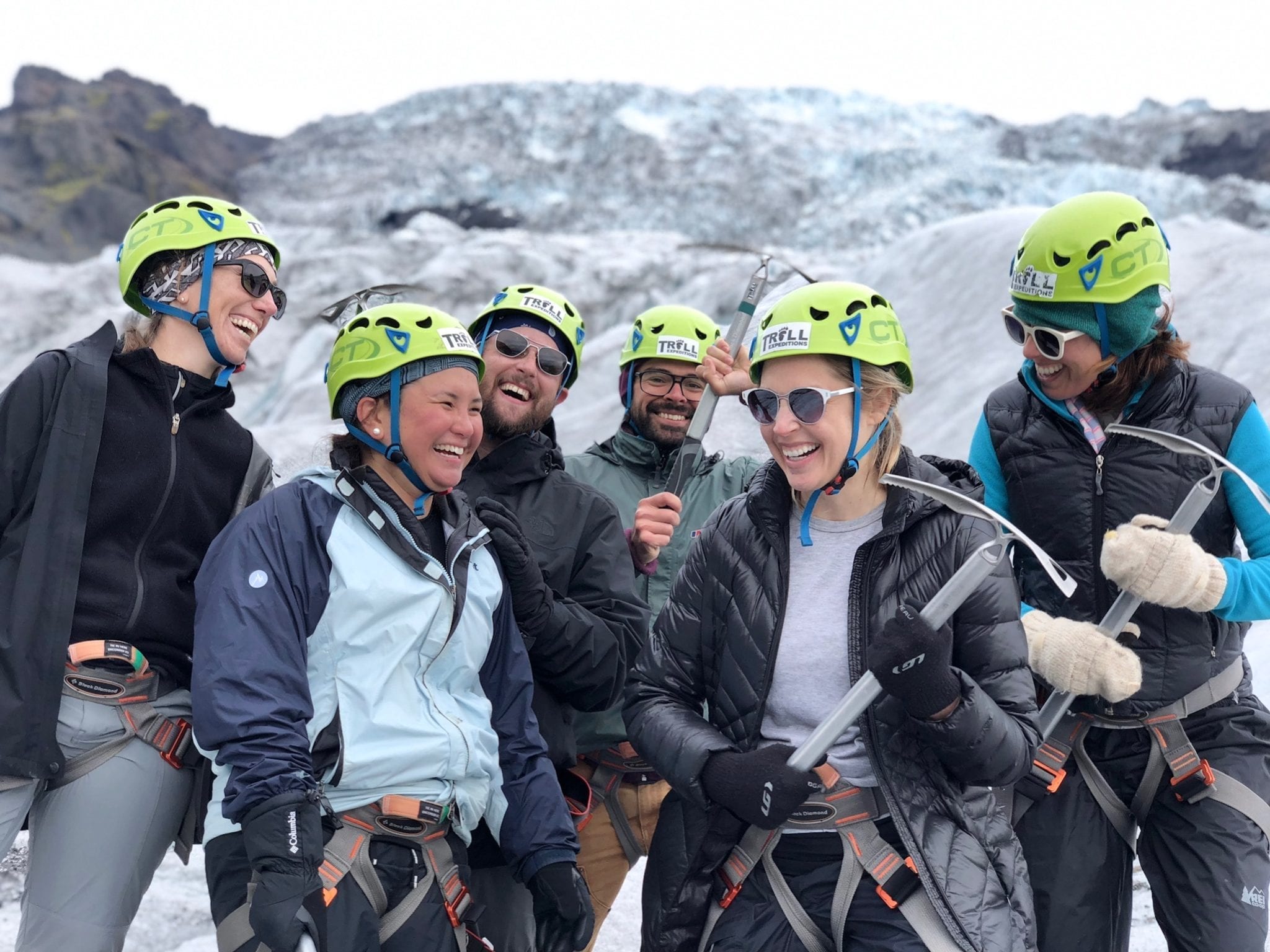 4.1. Flying tours
Those feeling extra adventurous should check out FLYING over the glacier! Atlantsflug/Flightseeing offers flightseeing tours around Iceland and have been flying over Skaftafell all the way since 1995. The tours are done by either fixed wing aircraft or helicopter, and every passenger gets a window seat view of the stunning landcapes.
Go by fixed wing over Grímsvötn on Vatnajökull glacier and all the way to Landmannalaugar (click here) or explore the glacier lagoons of the National Park and land by helicopter to stand and walk where once was a massive glacial lagoon at Grænalón (click here).
Once in Skaftafell you can go on the glacier, take a boat ride on the lagoon or just enjoy Skaftafell national park. By flying there you get unique view of the magnificent landscape of Iceland that very few people get to see. On the flight you will see Reykjavík, Þingvellir, the glacier Mýrdalsjökull, Skaftafell and Vatnajökull, all with a birds view. This is truly something to try once in your life!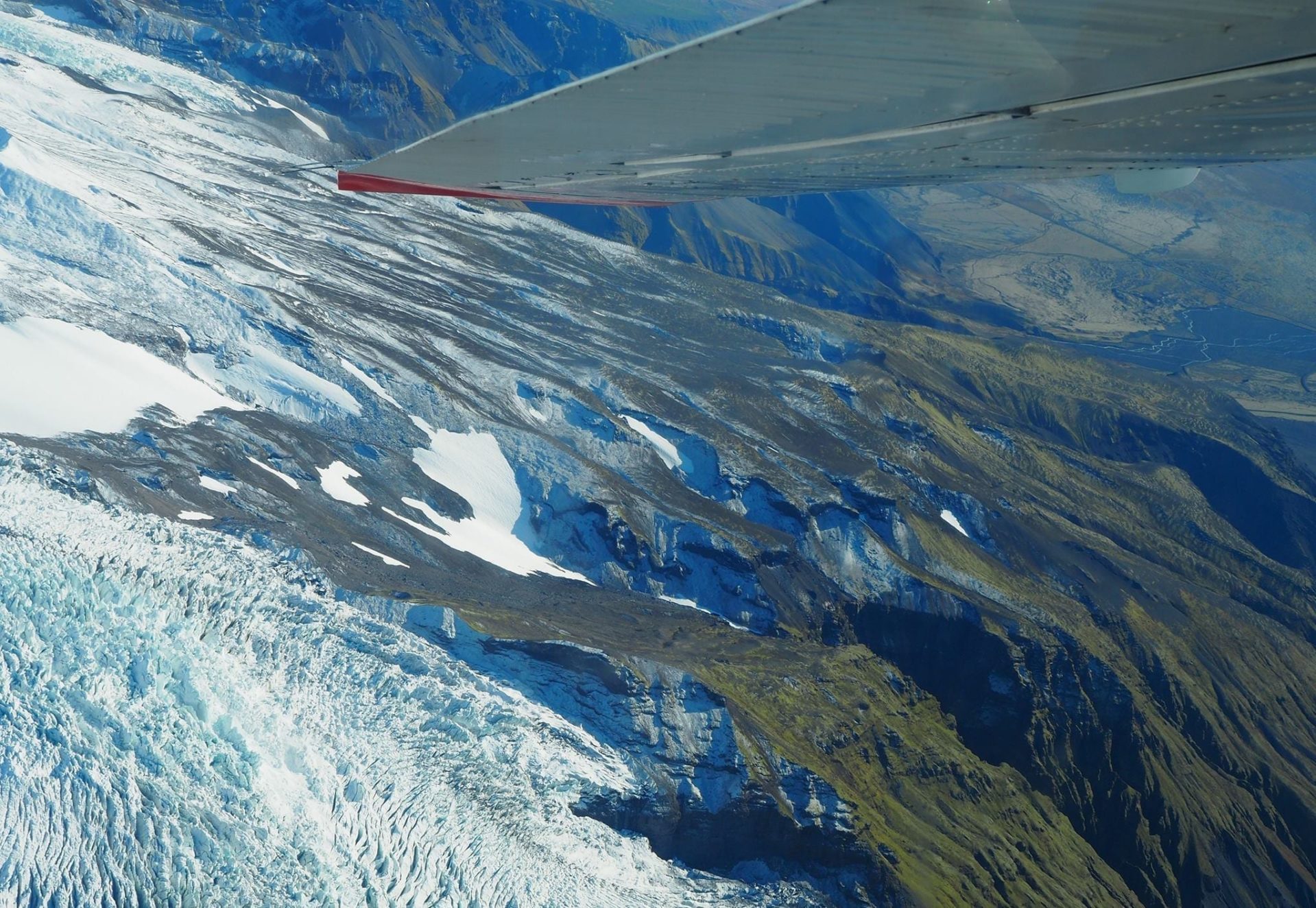 5. Vatnajökull Glacier
When I arrived for my tour in Skaftafell, I was mmediately I was greeted by a friendly glacier guide that introduced itself and then showed the safety gear we would be using, a helmet, a harness, an ice axe and showed me how to put on the crampons which I would be needing on the glacier. Then I waited while other fellow travelers were getting ready and I enjoyed some complimentary hot cocoa the. I brought my own hiking boots, but you can also rent them too.
Then we got on the bus that took us to the edge of the Vatnajökull glacier. Excitement was also in the air since we were getting closer to the Vatnajökull glacier with our guides. They also told us a bit about the glacier, its age and how long people have been hiking on it and researching. That was even surprising to me as an Icelander since I didn′t know all this history connected to the glacier, but actually Skaftafell and the region Öræfi used to be quite isolated and hard to reach by foot or by horses since the region was cut off by massive glacial river to the west and to the east.

6. What is Jökulsárlón "the glacier lagoon"
The day after I had planned to explore Skaftafell a bit more, visit the waterfall Svartifoss (the "black waterfall") and then go to the glacier lagoon Jökulsárlón. I started my walk to Svartifoss and found it without difficulty since the walking routes are extremely well marked in Skaftafell. Svartifoss was also impressive since it flows between huge black basalt columns and it is very different to other waterfalls in Iceland. Being there in summer time also added to my experience but since the region has so many trees the climate there is hotter and so Icelandic as most parts of the country. It almost felt like I was not in Iceland anymore.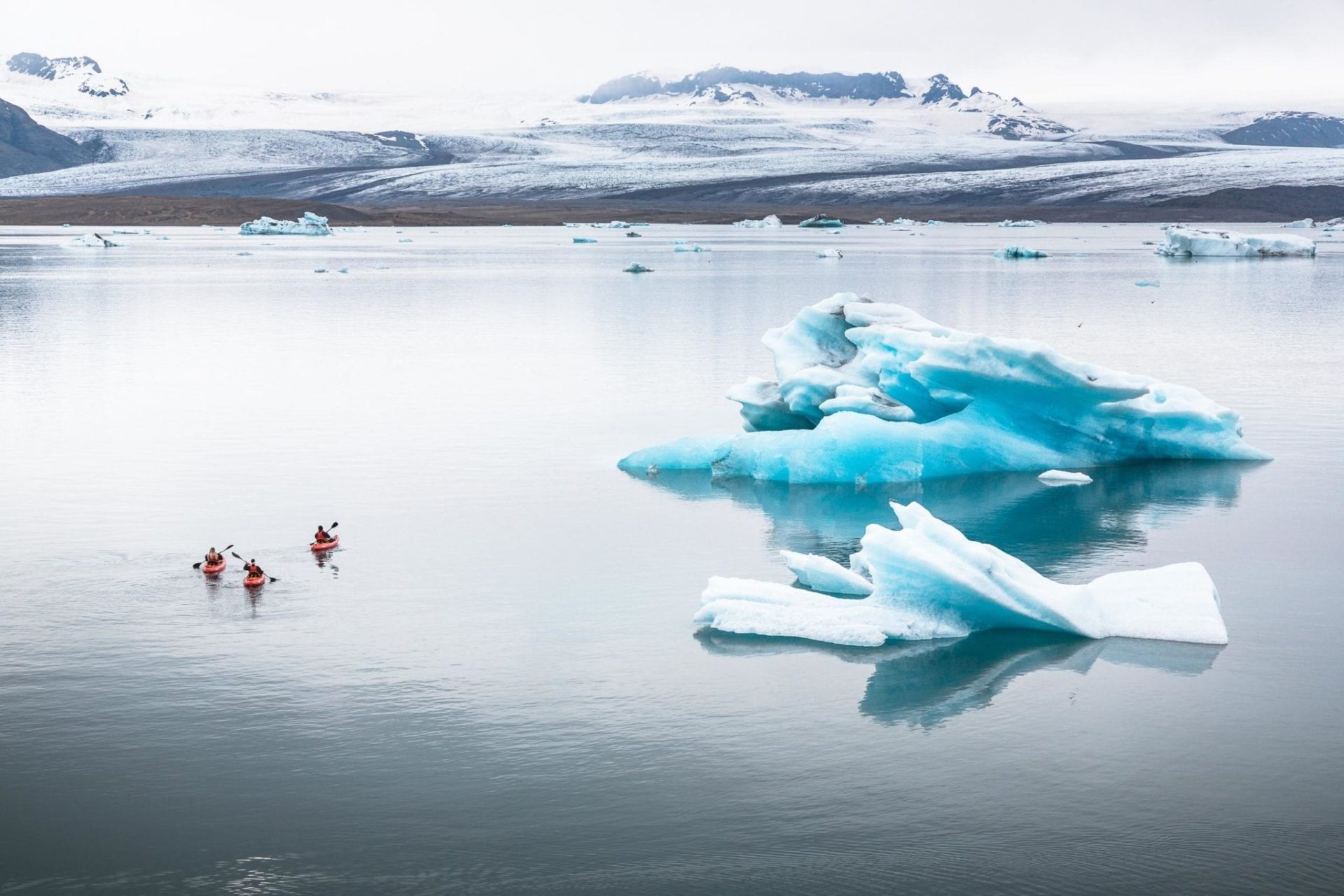 In the summertime, there are kayak tours available where you get the change to paddle between icebergs. This is a truly special activity and if you are lucky enough you might even be able to get close to a seal, all of it while you are admiring the beauty of the one and only glacier lagoon, Jökulsárlón.
That changed when I started to head to the glacier lagoon Jökulsárlón because the weather started to chance and become gloomier. I have been to Jökulsárlón before so it doesn′t worry me, and I know it is going to be great. I arrived there and took a walk around the lagoon, it′s also possible to take boat ride on the glacier lagoon, which I did. It was great, but still the high-point of the trip was my hike on the glacier. Next time I will definitely want to add the experience of visiting Crystal Blue Ice Cave (click HERE) along with visiting the glacier again.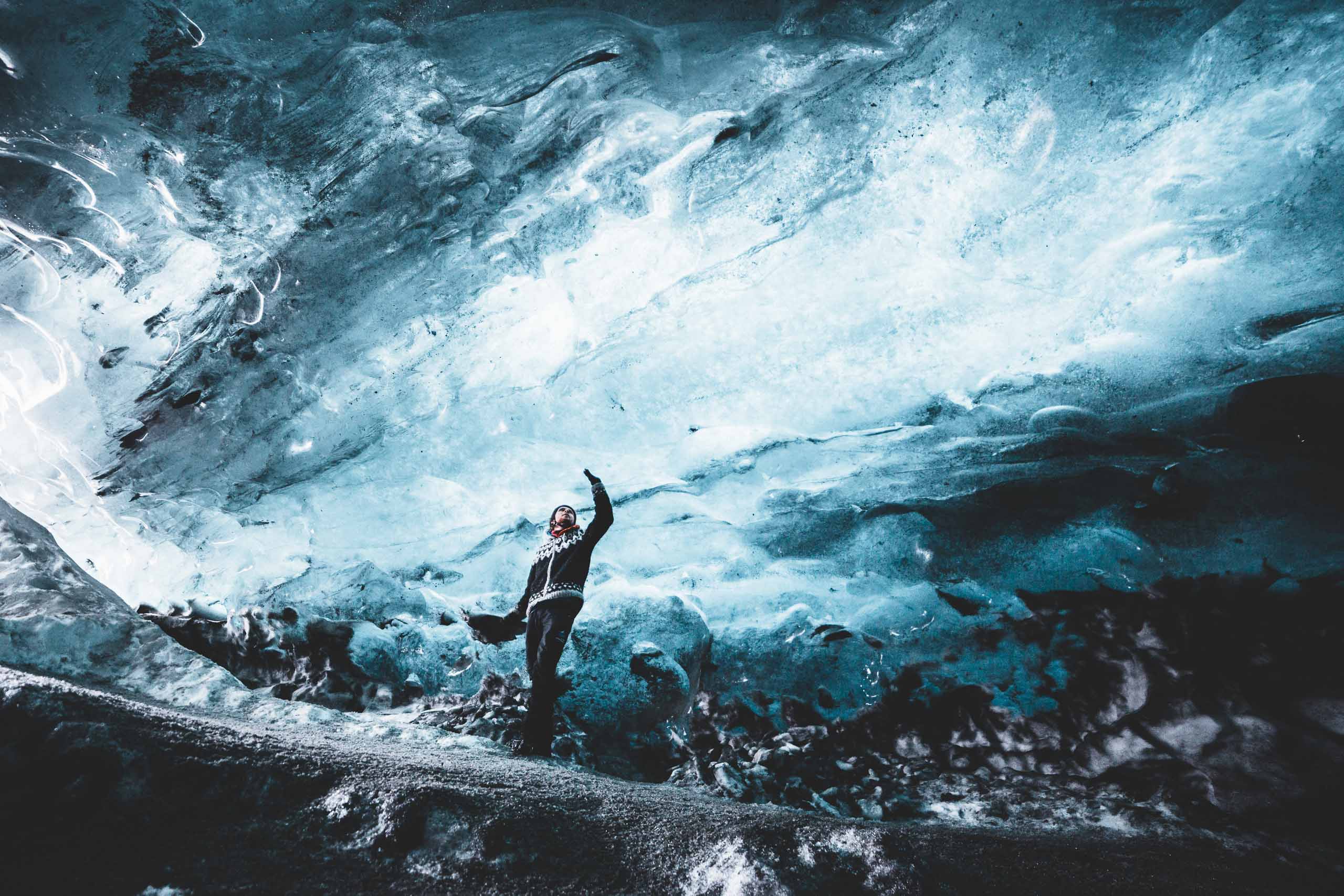 7. How to stay safe in Skaftafell and on the Vatnajökull glacier
First of all, I also felt very safe with the guides on the glacier, they really knew what they were doing since they are glacier guides that go up there every day and know the conditions like the back of their hand. Going alone, without proper gear or experience was also never a thought that occurred to me and I would strongly recommend against it. It is recommended to always go with a certified guide and people tried going on their own have gotten lost and need, or worst yet died on the glacier. Other than that, it is hard quite hard to get lost around Skaftafell since everything within the Vatnajökull National Park is well marked and several maps show the hiking trails. For longer hikes I would make sure someone knows where I'm going. For general travelling in Iceland I also recommend checking safetravel.is for weather alerts and information on road conditions, that is the best way to stay safe in Iceland!