6 Day Around Iceland Winter Minibus Tour
Hop on board this unique minibus journey around Iceland, exploring for six full days the country's most popular destinations. You will travel from the country's capital, Reykjavík, and visit Iceland's most beautiful sites, including the ones on the Golden Circle and South Coast, as well as a few hidden gems.
Highlights
✓ Golden Circle ✓ East Iceland ✓ North Iceland ✓ Akureyri ✓ Jökulsárlón ✓ Vatnajökull ✓ Mývatn ✓ Skógafoss ✓ Seljalandsfoss ✓ Geysir ✓ Gullfoss ✓ ... and more
Included
✓ 6 day guided tour of the Ring Road of Iceland ✓ 5 night of accommodation in various country hotels with breakfast and a private bathroom. ✓ Northern Lights spotting ✓ Taxes
Are you ready for the adventure?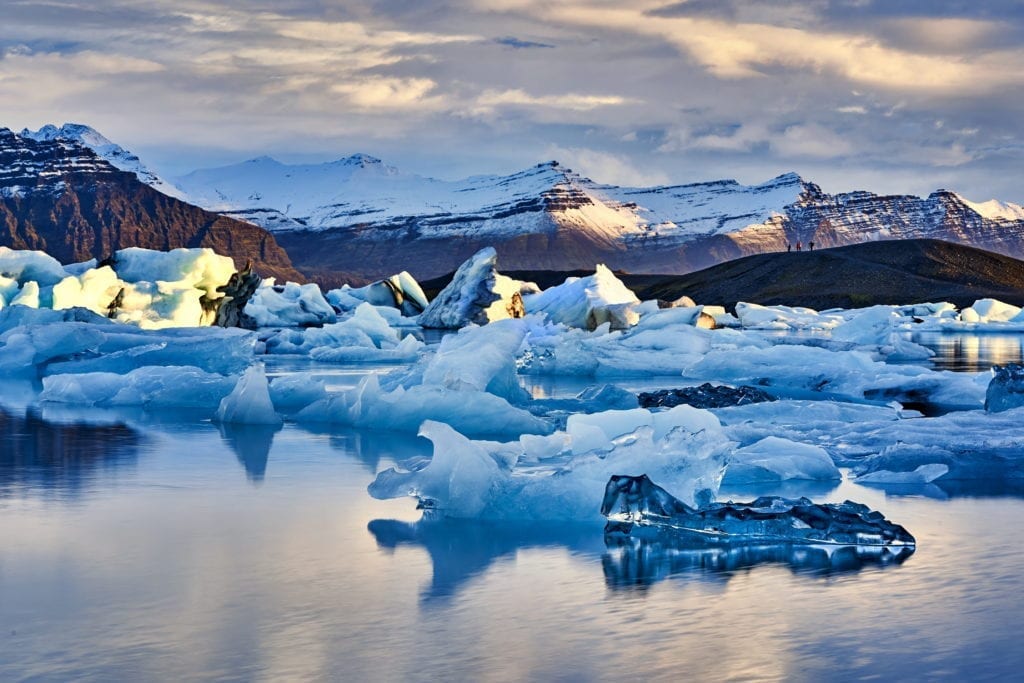 Join us on an exceptional, 6 day expedition around Iceland's most popular destinations. Starting in the capital, Reykjavík and visit Iceland's most popular and beautiful sites, including a few lesser known treasures of Icelandic nature.
For those wanting to enjoy all Iceland has to offer without having to struggle with finding accommodation and driving in unforeseen circumstances this tour is perfect. Travellers who want to explore Iceland in even more depth, the 8 Day Around Iceland Winter Minibus Tour is an option  you should consider, which includes the amazing Snæfellsnes peninsula in the West. 
This 6-day tour takes you to the must see Golden Circle route with all its amazing sites. You will see the unbeatable Gullfoss waterfall, Geysir geothermal area and of course the UNESCO World Heritage Site,  Thingvellir National Park. Next you will be heading to the much talked about South Coast, where you will explore the unique black sand beach, Reynisfjara and Jökulsárlón glacier lagoon. After exploring the Eastfjords, Lake Mývatn awaits with its unique surroundings, you will explore Dimmuborgir lava pillars and then carry on the journey to the capital of the North, Akureyri. From there you will head down south to the capital. 
While you enjoy this versatile tour you will be able to book extra tours and activities along the way to make your experience even more special, such as horse riding, hiking, and exploring ice caves. The nights are a perfect opportunity to search for the breathtaking aurora, in the starry night sky. 
In addition to this, you get to enjoy the benefit of excellent accommodation, which will result in a restful sleep each night so that you are prepared for the adventures of the next day. 
This is your opportunity, book now  to enjoy Iceland during its Northern Lights season. Check availability by choosing a date.
Daily itinerary
Day 1 – The Golden Circle
Your journey will begin in the capital, Reykjavík where a bus will pick you up and head straight out to explore the famous Golden Circle. To make a good day even better you can add a horse riding tour and get a chance to meet the unique and friendly Icelandic horse while riding in beautiful surroundings. 
Thingvellir National Park is the first stop of the tour, volcanic fields and mountains surrounded by snow will blow your mind, as it is one of the most beautiful locations in Iceland. Thingvellir has an amazing cultural heritage as Iceland's first parliament was founded there in the year 930 AD. Only to add even more uniqueness to the location its geological features are truly amazing and exceptional because of the exposed North American and Euroasion tectonic plates on the surface. The location is a UNESCO designated World Heritage site for these reasons. 
Haukadalur geothermal area will be your next stop on the Golden Circle route, where you will find hot springs Stokkur, which erupts every five to ten minutes creating amazing photo opportunities and the famous Geysir, the geyser that has named all geysers in the world. 
Ending the Golden Circle part of the tour is the most famous must see waterfall, Gullfoss, where water from the glacial river Hvítá rushes down two tiers of a 32 metre fall. The Golden Circle has gotten its name from Gullfoss, which translates to the Golden waterfall. 
Your minibus will next take you to your accommodation which is located perfectly for catching a glance at the Auroras in the night, far away from light pollution.
Day 2 – South Coast, Waterfalls and Glacier Hike
On the second day of the tour you will be heading to the South Coast, towards the magnificent Seljalandsfoss waterfall, a 65 metre drop of the water provides a unique sight, as one of Iceland's highest features. Moving on to yet another waterfall, Skógafoss welcomes you, as one of the largest falls in all of Iceland, ancient stories claim that Vikings buried treasure in a cave hidden behind the waterfall. In addition to this part of the tour you can opt for a hike across the crevasses of the glacier with a trained and experienced glacier guide. The extra activity can be added upon booking. 
The final stop of the day will be at the famous black sand beach Reynisfjara, surrounded by black basalt columns and is one of the most popular Icelandic places to visit. From there you can see rock formations Reynisdrangar and Dyrhólaey Peninsula rise gracefully from the ocean providing an astonishing sight. 
You will then head to your accommodation near the town of Vík.
Day 3 – Jokulsarlon Glacier Lagoon & Ice Caving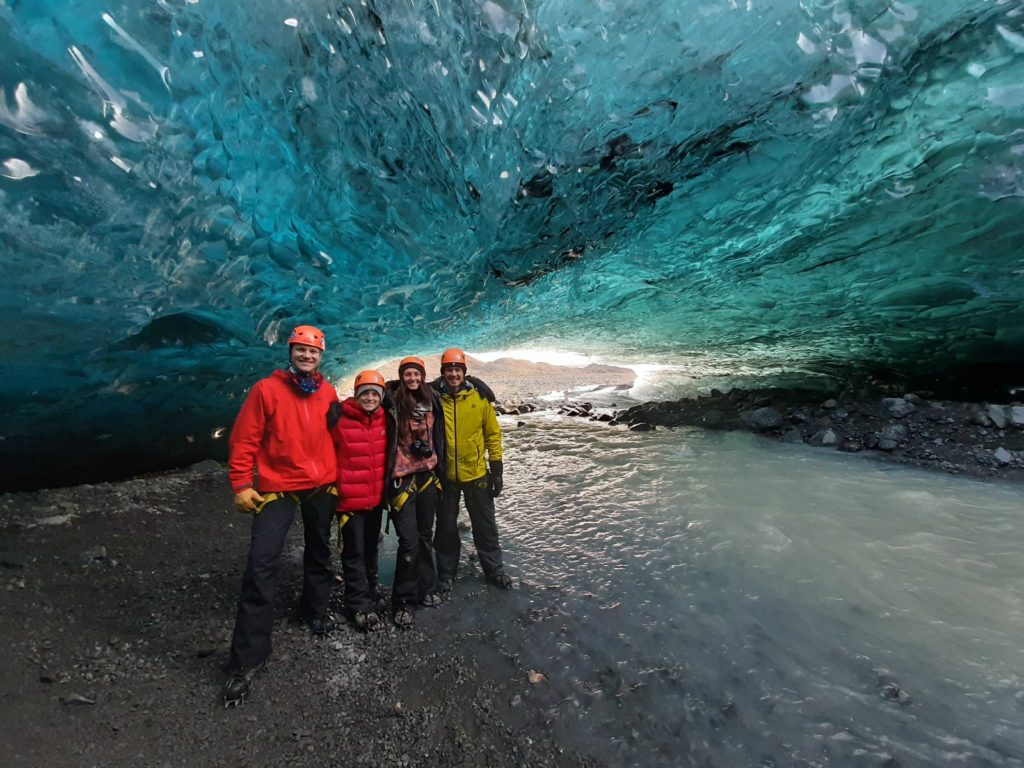 For adventure thirsty explorers who want to add an ice cave visit, today is the day. If you are travelling between April and October the day will start of with a stop in a cave in Mýrdalsjökull glacier. For those travelling in the countryside out if these months you will visit a cave in Vatnajökull glacier in the afternoon.  
The rare circumstances are formed each fall when melted water from the glaciers freezes and creates these remarkable ice caves. An experienced guide will walk you through the unique ice formations and share his knowledge of the glacier. 
The next stop of the journey is the astonishing Jökulsárlón glacier lagoon. Where you can see large icebergs drift calmly towards the ocean and follow their path to the Diamond Beach where the icebergs strand on the sand and resemble crystals as they lie on the black satin beach. 
Your night will be spent in this charming area.
Day 4 – The Eastfjords
You'll spend your fourth day in the East Fjords of Iceland, where you can find amazing and rare wildlife, for example this is the only place in Iceland where Reindeer might be seen. These fjords present you high mountain ridges and the mighty Vatnajökull towering in the west. Icelandic history makes its appearance in the peaceful fishing villages you pass along the way, as fishing has always been a big part of Icelandic culture.
Hallormsstaðaskógur forest is your next destination, the largest forest in Iceland that offers many walking trails that lead to locations such as waterfalls, coves and moors. You will travel along Lake Lagarfljót, and try to see with your own eyes the mythical worm-like creature said to live in the lake. The night will be spent in a beautiful town in East-Iceland.
Day 5 – Lake Myvatn, Dimmuborgir Fortress and Namaskard Pass
Lake Mývatn and it's beautiful surroundings is the designated destination for day five, you will explore the geothermal region around the Lake. The area has many of the things that make Iceland so unique, lava formations, mud pools and remarkable geological features. 
A visit to Námaskarð pass, a high temperature geothermal area where the earth boils and gurgles. The orange and red landscape in the area shows how versatile Icelandic nature can be. 
Dimmuborgir, your next stop is where you will explore a field of peculiar shaped lavar pillars that rise from the earth and their formations may remind you of trolls, elves and other mytchical creatures, even the Icelandic Yule Lads. 
A geothermally heated spa, Mývatn Nature baths then gives you the opportunity for complete relaxation and a chance to experience the geothermal nature of Iceland up close. 
Akureyri is your next overnight stop but on the way there, you will have a chance to see the phenomenal waterfall Goðafoss and its remarkable beauty. 
Remember to look for the beautiful Northern Lights at night if skies are clear before you turn in to your accommodation.
Day 6 – Exploring North Iceland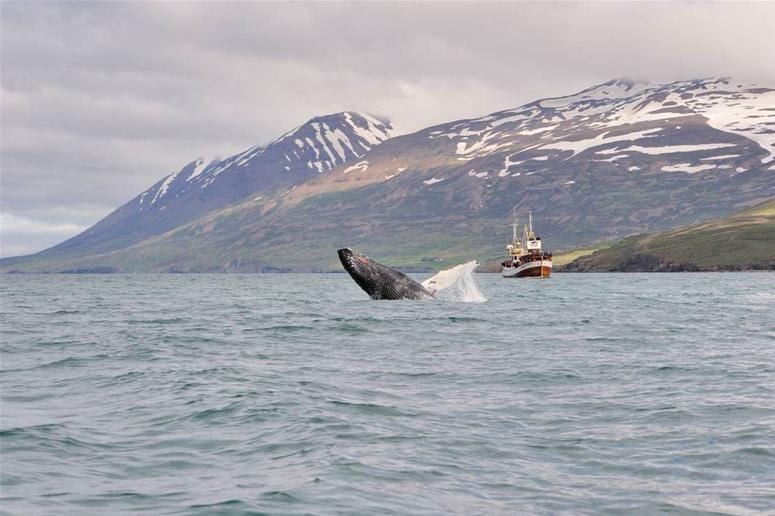 For your last day on the tour around Iceland you will journey between capitals, from Akureyri in the North, to Reykjavík in the South. Of course with a couple of stops along the way. A short drive from Akureyri is the village of Hauganes, where you could opt top hop on a whale watching boat to see Humpback whales and more gentle giants found in the ocean. How does a Beer spa sound? Take a dip in warm beer and beer yeast, which supposedly is good for your skin and hair. Even enjoy a cold beer while you bathe in the warm beer. The small town of Hauganes has many things to offer and we recommend you take a walk around the small town, it has a charming harbour and a beautiful black sand beach overlooking the ocean and the graceful tall mountains all around. 
After your visit to Hauganes you will journey on to view Hvítserkur, a giant rock formation emerging from the North-Atlantic Ocean, resembling an elephant drinking from the sea. It is also said that this was a troll that was turned into stone by she sunlight, if you believe folklore that's a much better story to tell. 
After that you will head to Reykjavík, the city has many things to offer travelers thirsty for more adventures, stories and knowledge about Iceland, it is entirely up to you how you spend the rest of your time. Everyone should find something for their liking, whether it's whale watching, cafe's or shopping. We do not recommend that you book your flight home on the same evening as weather can be unpredictable and delays could affect your itinerary.
Cancellation Insurance
This insurance guarantees that you can cancel the booking of this package and receive a full refund, minus the insurance cost of 5,000 ISK per person.
The cancellation must be made within a minimum of 48-hours before the listed starting time. To cancel your booking and claim your refund, simply contact our service desk by writing to [email protected] no later than 48-hours before departure and declare the cancellation.
Please note that this insurance only covers the full cancellation of this entire package. It does not cover cancellations of individual activities and services within the package. The cost of the Cancellation Insurance is neither refundable nor transferable
General Information
Pickup information
✓  Pickup time: 08:00.
✓  Pick up might take 30 minutes. Please be ready at your selected location. Read carefully if you will be picked up at your hotel or at the nearest designated area (Bus Stop). For walking distance to bus stops, please check busstop.is.
Included
✓ 6 day guided tour of the Ring Road of Iceland
✓ 5 night of accommodation in various country hotels with breakfast and a private bathroom
✓ Northern Lights spotting
✓ Taxes
Not Included
• Any additional activities (can be added during the booking process)
• Lunch and Dinner
What to bring
• Camera
• Warm clothes (first layer)
• Waterproof clothing (second layer)
• Hiking boots (available for rent when booking)
• Swimsuit and a towel
• Joy and happiness!
Good to Know
• Customers travelling on their own will receive a single room. Reservations for 2 people will be allocated a double room. For bookings of 3 or more, triple rooms will automatically be allocated. For example, a group of 8 will receive 2 triple rooms and 1 double. If these arrangements do not meet your requirements, please contact the provider.
• Customers can chose between Beer Baths or Whale Watching on day 6. It is not possible to select both.
• The Northern Lights are a natural phenomenon, and therefore cannot be guaranteed, but this itinerary is designed to maximise your chances to see them if weather allows. Please be advised that there is no specific Northern Lights hunt on this tour, but your guide will notify you if the conditions are favourable and advise you on how to best spot them.
• The limit is one 24″ suitcase per person. You can store your luggage in our office for 1,000 ISK. It can be added as an extra at the time of booking. If there is room on the bus, then we will bring the piece of luggage with us on the tour. The luggage fee however is non-refundable upon payment in all cases.
• It can happen, in the case of extreme weather, that an activity is cancelled. If your chosen activity is cancelled, we will assist you with rearranging or booking other activities when possible, and any potential price difference will be refunded to you.
• Note that Icelandic roads and pavements can be slippery in the wintertime. We recommend you bring shoes with slip-resistant soles or ice-grip shoe covers. The covers can be purchased in most supermarkets and gas stations around the country.
• Please note that only pick up and drop-off from designated pick up locations in the greater capital area is available, not from Keflavík International Airport. Therefore, we do not recommend attempting to start this tour on your arrival day in Iceland. Arrival time back to Reykjavík at the end of your tour can vary depending on weather and traffic.
Cancellation Insurance
• This insurance guarantees that you can cancel tour and package bookings and receive a full refund, minus the insurance cost of 5,000 ISK per person.
• The cancellation must be made more than 48 hours before the listed starting time on your voucher. To cancel your booking and claim your refund, simply contact [email protected] and declare full cancellation.
• Please note that this insurance covers the cancellation of the whole tour or package. Individual services cannot be cancelled and refunded separately, but are all covered and refunded in case of a full cancellation.
FAQ
How does pick up work?
For tours that state that they pick up from Reykjavík, we ask all our customers to send their pick up location at least 24 hours prior to the departure of their tour. We cannot be responsible if you do not provide your pick up location, we won't be responsible if you miss your tour. We offer free pick-up from Reykjavik city center. Pick up starts at the scheduled departure time for the tour can take up to 30 minutes. We ask our passenger to be ready in their listed location so they can be easily found.
What are designated pick up locations?
Due to regulations of Reykjavik City, tour companies are allowed to stop at certain designated bus stop locations in the city centre to pick up passengers. It is stated on your voucher whether we will pick you up directly from your accommodation or from the bus stop.
How can I find the nearest designated pick up location?
Find the closest designated pick up location using the map below:
What is a multiday tour?
A multiday tour is a tour that includes a guided day tour for more than one day and accommodation.
Why should I book a multiday tour?
All our multiday tours are in a minibus and offer small group experience. By booking a multiday tour you don't have to worry about accommodation during the time of the tour. Staying overnight in the countryside gives you the opportunity to explore Iceland further and experience places that you would normally not be able to on a one day tour.
Will I have a private bathroom?
All our partner hotels have private bathrooms.
Is breakfast included?
Yes, breakfast is included after each night of accommodation included in the multiday tour.
I'm a solo traveller, is there a single supplement?
Yes, single fee suplement is mandatory for all multiday tours. This is to ensure your single room in all hotels of accommodation. There is no way to opt out of single fee supplement if you are a solo traveler.
Is it guaranteed that we will see the Northern Lights during the tour?
Most of our partner hotels are located in prime areas to spot the northern lights. If the forecast is favorable chances are that you will be able to see the magical show of aurora borealis outside the hotel. Most of the hotels offer a wake up call up on request if they northern lights are spotted. However, northern lights are a natural phenomenon that tour operators cannot guarantee.
How much luggage can I bring?
The limit is one 24″ suitcase per person. You can store your luggage in our office for 1,000 ISK. It can be added as an extra at the time of booking. If there is room on the bus, then we will bring the piece of luggage with us on the tour. The luggage fee however is non-refundable upon payment in all cases.
What should I wear for glacier tours?
Weather in Iceland is very unpredictable. For tours during winter: warm clothing as first layer, waterproof jacket with a hoodie, hiking boots with ankle protection and hard sole, a hat and gloves are ideal. For tours during summer, bringing a light rain jacket or a soft shell with a hoodie is in most cases enough protection. Icelanders often say, "If you don't like the weather, just wait 5 minutes". Jeans are not recommended for our trips as they become very heavy, cold and uncomfortable to wear when they get wet.
Do I need hiking boots?
We encourage bringing hiking boots for glacier tours. They have to hard on the sole and tight around the ankle. If you don't have them, we have them for rent in all sizes in Skaftafell or Sólheimajökull. You can add them to your reservation at the time of booking or rent them on location pay with cash or card. The price is ISK 1,500 per pair. For ice climbing tours, boots are included in the price.
How difficult are glacier hikes?
We offer glacier hiking tours in Skaftafell and one in Sólheimajökull. Both locations either easy or moderate in difficulty. Our tours are considered to be safe for anyone in good physical condition. If you are fit to walk for about an hour on an uneven surface a glacier hike is for you. Longer tours will be more challenging in endurance and some areas of the glacier. We also recommend you remember that we offer all the safety equipment necessary and you will be hiking with a professional and certified glacier guide. If you have specific questions regarding one of our glacier tours, feel free to email us.
If I am pregnant, can I join a glacier hike?
This is a personal choice. We have had pregnant women on our glacier hikes and we always recommend you read the description of the activity to get a better idea. In any case, feel free to contact our Service Team for further questions and concerns.
What if it's raining?
It rains a lot in Iceland, but we do not let rain stop us from going out and enjoy nature. All we need to do is choose our clothing wisely, which is why we recommend wearing waterproof clothing as the second layer. Of course, safety is our #1 priority. In case of extreme weather conditions, we will cancel our tours and do our best to reschedule. In these cases, you'll receive a full refund.