Crystal Blue Ice Cave | Super Jeep from Jökulsárlón
Come to explore the other-worldly beauty of a natural blue ice cave. In this tour you'll hop on a SuperTruck to experience hidden areas on a glacier outlet from Vatnajökull, the largest glacier in Europe. You'll see all sorts of ice formations from impressive caves to ice tunnels formed by the dynamic ever-changing Icelandic nature.
Highlights
✓ Visit on a Natural Ice Cave, ✓ Views of Ice Formations, ✓ Super Jeep Ride on Vatnajokull, Europe's Largest Glacier, ✓ Small Group Experience, … and more
Included
✓ Ride on a 4×4 Super Jeep, ✓ Guided Ice Cave Tour, ✓ All Necessary Equipment, ✓ English Speaking Certified Glacier Guide, … and more.
Are you ready for the adventure?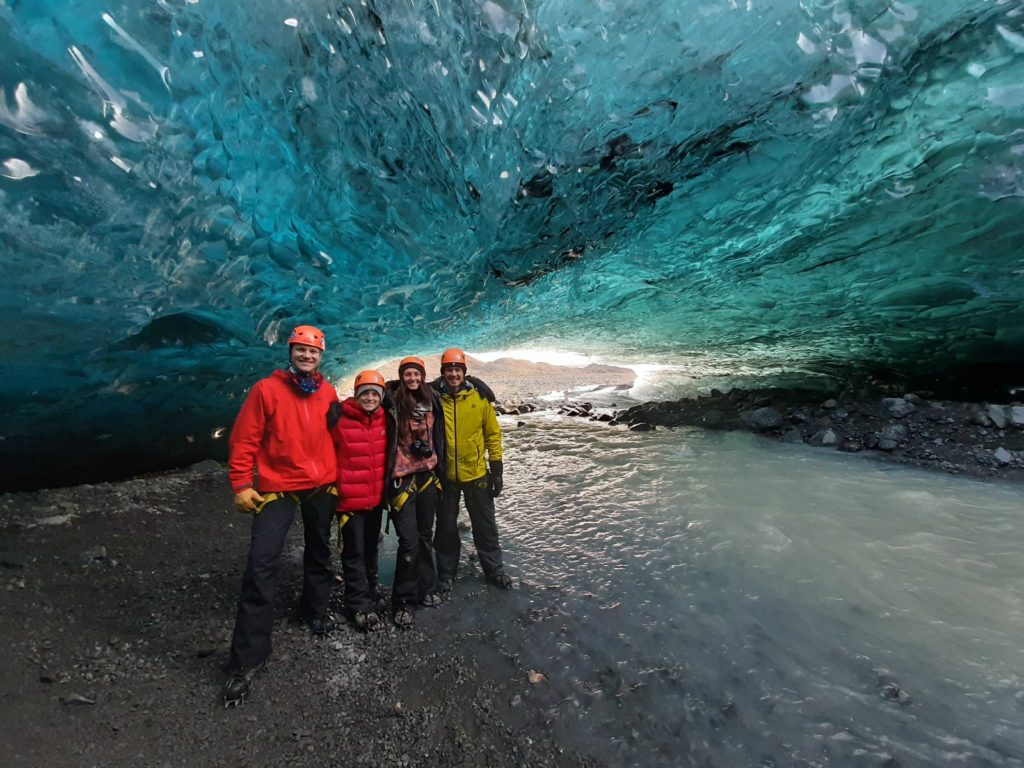 Tour Description
Come and experience the out-of-this-earth beauty of a crystal blue ice cave in winter on a Super Jeep. You'll explore off-the-beaten-path spots on a glacier walk near Vatnajökull, the largest glacier in Europe. Meet our friendly guides by Jökulsárlón parking lot, beside the famous glacier lagoon in the South Eastern region of Iceland. Take that one Instagram-worthy picture that you will show to everyone back home: you and the natural blue ice cave that welcomed you. 
The tour begins when you meet your expert and friendly guides by the parking lot of Jökulsárlón. They will be waiting for you with a sign by our Super Jeep. After you have entered the vehicle, you'll drive with your group up on the glacier. Make sure you bring comfortable pants, a warm sweater and a waterproof layer on top of it, in case it rains. Remember you are traveling in winter in Iceland!
The drive itself is exciting and bumpy! Your guide will make sure you feel safe at all times and learn absolutely everything there is to know about the area as you travel on our modified "Super Jeep". Once you get to the home to the caves, you'll take a short walk through the glacial landscape and learn about the world-famous Vatnajökull glacier and the surrounding areas, Game of Thrones locations and other productions that took place there.
Afterwards, your guide will show you how to put on the crampons that will be tied to your hiking boots and make it possible for you to walk on the ice. Ice caves are stunning natural phenomena and a must-see for anyone visiting Iceland during wintertime. Before you know it, you'll be standing inside an ancient glacier that holds a natural blue ice cave with different shades of blue colors and formations.
The structure and condition of the ice caves vary greatly each season. Our guide decides which cave to visit every day depending on safety and weather conditions. Don't worry, once there, you'll have plenty of time to take that picture to frame and share with everyone back home. Moreover, you might be lucky enough and visit other formations such as ice tunnels and crevasses that are made out of blue ice. Don't forget your camera! After happy memories are created, you'll return happy and warm to continue your travels.
Never been on an ice cave excursion before? No worries! Our certified glacier guides will keep you safe at all times before, during and after this expedition in search of the blue ice cave.
What is holding you back? Book this tour by selecting a date.
General Information
Available
✓  From November to March
Included
✓  Pick up from Jokulsarlon, the glacier lagoon
✓  Ride on a 4×4 SuperJeep up to the glacier
✓  Certified Glacier Guide
✓  Small Group (14 persons max)
✓  Ice cave Equipment: Helmet, Headlamps, and Crampons.
What you need to bring
• Hiking boots (hard on the sole and tight around the ankle)
• Warm clothes (first layer, ideally wool)
• Waterproof clothing (second layer)
• Gloves and hat
Good to know
• This tour is suitable perfect for families.
• Jeans are not recommended for glacier activities. Once denim gets wet, it spreads moisture and takes a long time to dry, leaving the wearer cold.
Local advice
• Arrive early at the meeting point and take some great photos of Jökulsárlón the glacier lagoon.
Meeting Point
The meeting point is in the parking lot of Jökulsárlón, the glacier lagoon. Our guides will be by Super Jeep with a sign marked Troll Expeditions south to the Jökulsárlón Cafeteria.
Note that the Driving time to Jökulsárlón from Reykjavík is around 5 hours in good road conditions. Find a map with directions below.
Click on "Directions" the map for the exact location and driving directions or scan the QR Code with the camera on your phone.
FAQ
What should I wear on the tours?
Weather in Iceland is very unpredictable. For tours during winter: warm clothing as first layer, waterproof jacket with a hoodie, hiking boots with ankle protection and hard sole, a hat and gloves are ideal. For tours during summer, bringing a light rain jacket or a soft shell with a hoodie is in most cases enough protection. Icelanders often say, "If you don't like the weather, just wait 5 minutes". Jeans are not recommended for our trips as they become very heavy, cold and uncomfortable to wear when they get wet.
Do I need hiking boots?
We encourage bringing hiking boots for glacier tours. They have to hard on the sole and tight around the ankle. Unfortunately, don't have the option to rent hiking boots for our Crystal Ice Cave Tour from Jökulsárlón for the moment.
If I am pregnant, can I join a glacier hike?
This is a personal choice. We have had pregnant women on our glacier hikes and we always recommend you read the description of the activity to get a better idea. In any case, feel free to contact our Service Team for further questions and concerns.
What if it's raining?
It rains a lot in Iceland, but we do not let rain stop us from going out and enjoy nature. All we need to do is choose our clothing wisely, which is why we recommend wearing waterproof clothing as the second layer. Of course, safety is our #1 priority. In case of extreme weather conditions, we will cancel our tours and do our best to reschedule. In these cases, you'll receive a full refund.