Dragon Glass Katla Ice Cave | Super Jeep from Vik
Did you know that Iceland is home of one of the rarest natural phenomenon: ice caves. Come and jump onto a Super Jeep and admire the mighty caves of ash and ice. You'll take a ride into the country on our 4x4 Super Jeep and feel like you are taking a sneak peek into the highlands as you admire the majestic mountains and fields of moss.
Highlights
✓ Visit a Natural Ice Cave, ✓ Views of Ice Formations, ✓ Super Jeep Ride towards Kötlujökull, ✓ Small Group Experience, … and more
Included
✓ Ride on a 4×4 Super Jeep, ✓ Guided Ice Cave Tour, ✓ All Necessary Equipment, ✓ English Speaking Certified Glacier Guide, ✓ Free Parking … and more
Are you ready for the adventure?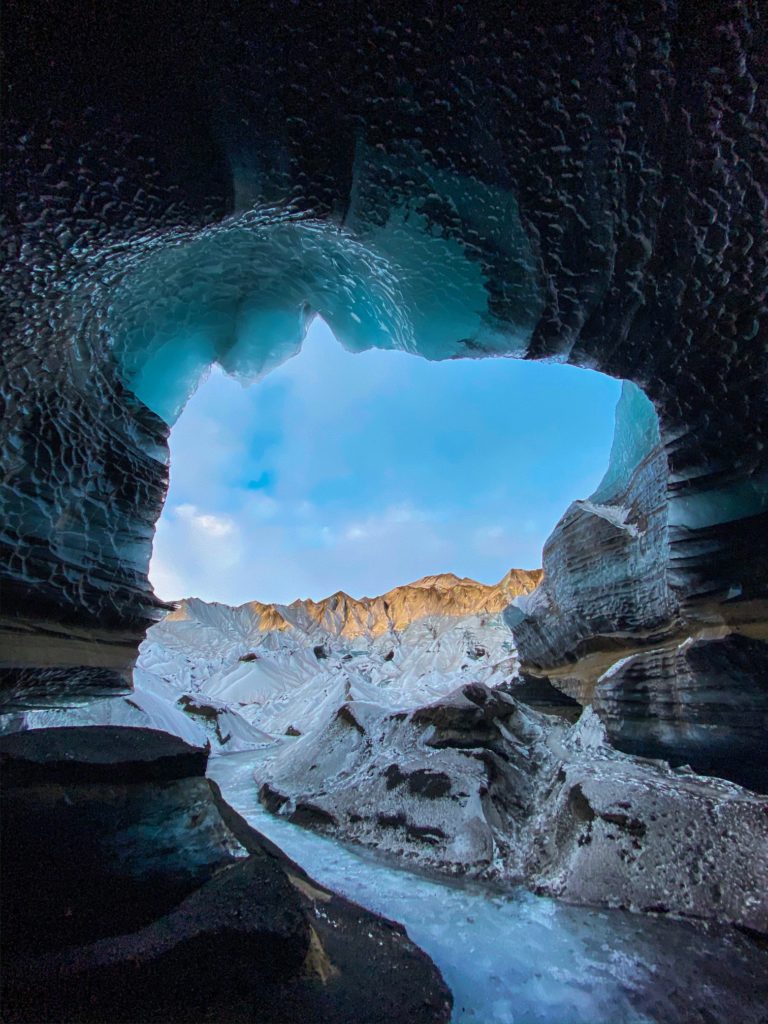 Tour Description
Hop on our Super Jeep, put on your crampons and explore the mighty South Coast and Myrdalsjokull glacier. In this off-the-beaten-path tour to a natural ice cave underneath Katla volcano, you'll admire the lunar surroundings, moss covered mountains and glaciers the South Coast of Iceland is so well known for.
After being picked up from Vík, we'll take you on the road of "no man" that will take you to the mysterious cave. The road is bumpy and views are out-of-this-planet. You'll feel like you are taking a sneeky peek into the highlands are you see yourself surrounded by mountains covered in moss.
The ice cave is located in Kötlujökull Glacier which is an outlet glacier of Mýrdalsjökull glacier. Underneath awaits the mighty volcano Katla, that names both the glacier and the ice cave.
Once you arrive to the glacier, your guide will hand you all the necessary ice cave equipment and go over a safety briefing and facts about glaciers and ice caves. You'll take a fun walk on the glacier with your experienced glacier guide before you enter the famous cave of "dragon glass".
The view inside the Ice Cave is truly spectacular the combination of the colors of the ice we don't think are possible in nature, which is why this cave is also known as the "Dragon Ice Cave" because of Game of Thrones… Prepare to be amazed!
Never been in an ice cave before? No worries! Our certified guides will teach you all you need to know and have you walking safely in this environment. Safety equipment and briefings are provided before each tour.
Don't over think it! Book this tour by selecting a date.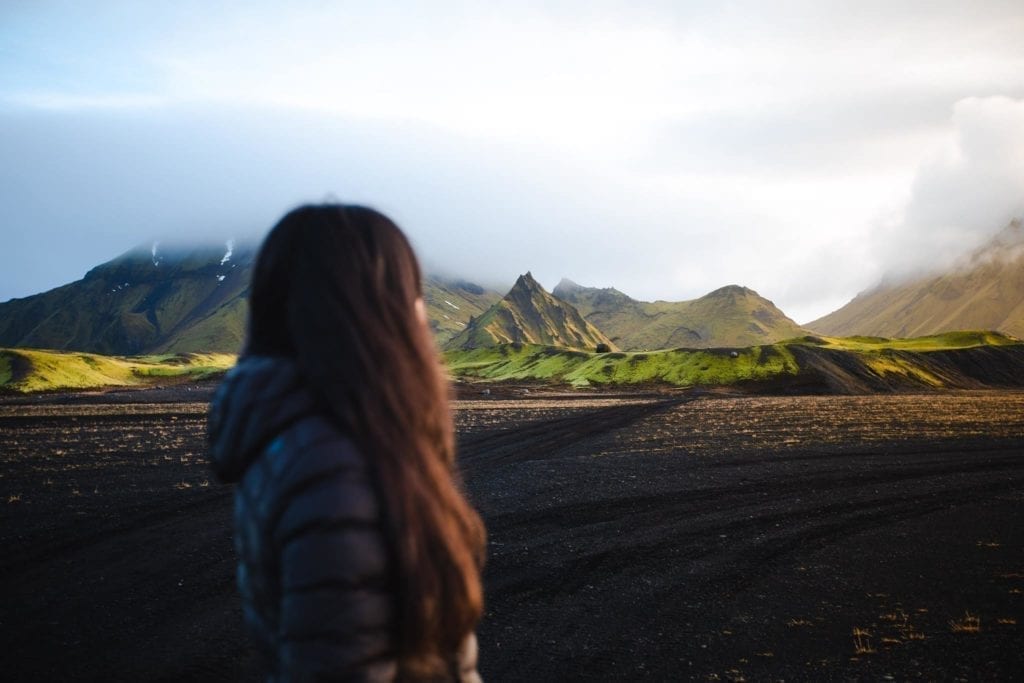 General Information
Highlights
✓  Natural Ice Cave by Katla volcano
✓  Views of Ice Formations
✓  Super Jeep Ride towards Kötlujökull
✓  Small Group Experience
Included
✓ Free Parking
✓ Ride on a Super Jeep into the country
✓ Certified Glacier Guide
✓ Fun Glacier Walk
✓ All Safety Ice Cave Equipment: crampons, helmet, and a headlamp
What you need to bring
• Hiking boots
• Warm clothing (first layer)
• Waterproof clothing (second layer)
• Gloves to protect your hands
Good to know
• Ice caves are a dynamic natural phenomena. New unique caves are formed in different areas of the glacier. We visit a naturally formed ice cave during this tour. All the photos on our website are from the current season, but some formations we visit might have changed due to the natural reasons.
Local Advice
• The meeting point in Vík has a lava exhibition and a nice restaurant. Make sure you visit them after your tour. Your guide will be waiting for you by our Super Jeep with a sign saying with the name of the tour.
Meeting Point
We will see you at our meeting point 20 minutes before the departure time stated on your ticket. Please note that if you arrive after departure time, your place on the tour can't be guaranteed or refunded.
The meeting point for this tour is inside the restaurant at the Icelandic Lava Show. To find the exact location and directions you can look up "Icelandic Lava Show" on Google Maps or you can click here. Your guide will be waiting for you by our Super Jeep with a sign saying with the name of the tour.
Driving time to Vík from Reykjavík is around 2 hours and 30 minutes in good road conditions. If you arrive early, you can stay inside the restaurant which offers free parking and has restrooms.
Click on "Directions" the map for the exact location and driving directions.
FAQ
What should I wear on the tours?
Weather in Iceland is very unpredictable. For tours during winter: warm clothing as first layer, waterproof jacket with a hoodie, hiking boots with ankle protection and hard sole, a hat and gloves are ideal. For tours during summer, bringing a light rain jacket or a soft shell with a hoodie is in most cases enough protection. Icelanders often say, "If you don't like the weather, just wait 5 minutes". Jeans are not recommended for our trips as they become very heavy, cold and uncomfortable to wear when they get wet.
Do I need hiking boots?
We encourage bringing hiking boots for glacier tours. They have to hard on the sole and tight around the ankle. Unfortunately, don't have the option to rent hiking boots for our Katla Ice Cave Tour from Vík for the moment.
What if it's raining?
It rains a lot in Iceland, but we do not let rain stop us from going out and enjoy nature. All we need to do is choose our clothing wisely, which is why we recommend wearing waterproof clothing as the second layer. Of course, safety is our #1 priority. In case of extreme weather conditions, we will cancel our tours and do our best to reschedule. In these cases, you'll receive a full refund.