Sólheimajökull Ice Climbing & Glacier Hike
Tie your hiking boots' shoelaces and put on your adventure hat because Sólheimajökull glacier will blow your mind. You'll feel like you have landed on the moon walking on ice and volcanic ash. We'll provide you with ice axes and basic ice climbing techniques for you to chop them as you rise from the blue wall of a glacier crevasse.
Highlights
✓ Hike on Sólheimajökull Glacier, ✓ Climb an ice wall, ✓ Views of Ice Formations, ✓ Small Group Experience, … and more
Included
✓ Guided Glacier Tour, ✓ All Necessary Equipment, ✓ Hiking boots, ✓ English Speaking Certified Glacier Guide, … and more.
Are you ready for the adventure?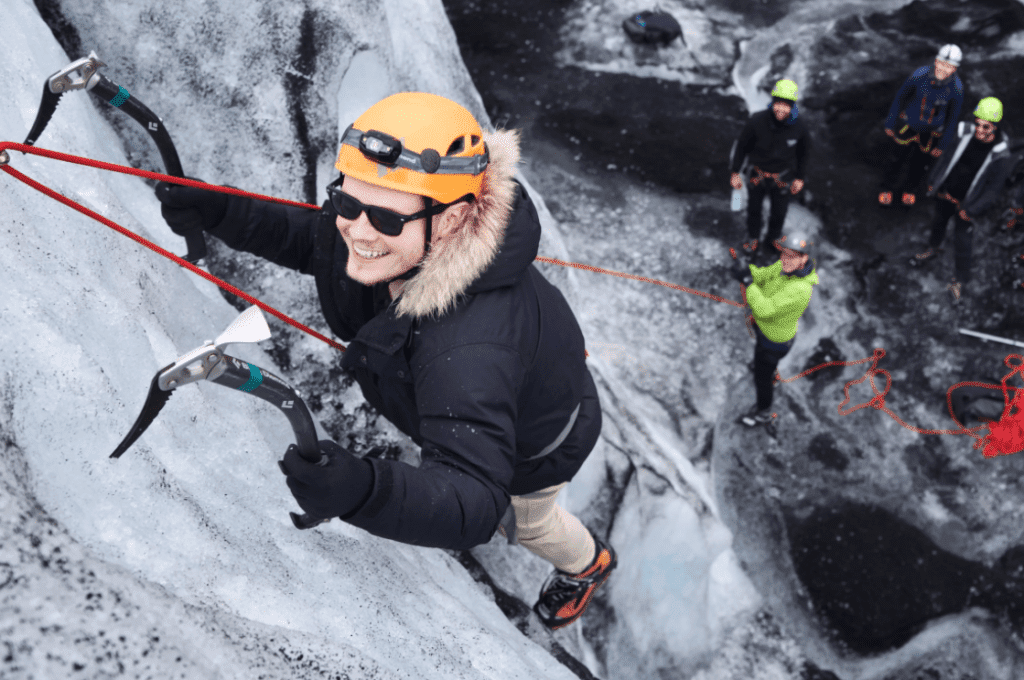 Tour Description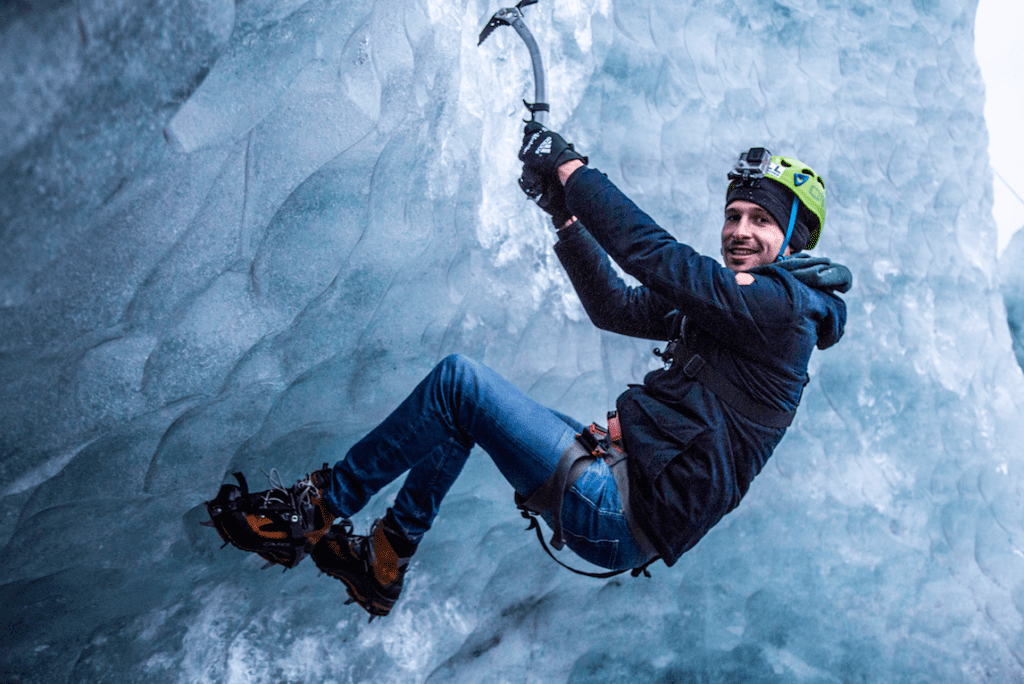 Challenge yourself on your trip to Iceland and experience natural wonders that look like they are out of this planet while doing good workout in the fresh air of the Icelandic mountains. Sólheimajökull is an outlet glacier of Mýrdalsjökull, the 4th biggest glacier in Iceland and looks like you are walking on the moon. Climb an wall of glacial ice mixed with volcanic ash from eruptions. 
The tour begins when you meet your guide in the Sólheimajökull parking lot and get all necessary equipment for the hike: crampons, ice axes, harnesses, helmets and climbing boots. Then you will hike for about 15 minutes to the ice itself to get the blood flowing and warm up for the climb.
Arriving at the glacier your guide will explain to you how to put on the crampons, a traction device out of steel which is attached to your climbing boots, and he will talk about safety and a few important rules for the tour.
You will stay 150 to 180 minutes on the ice itself and see lots of beautiful features. Since the glacier is impermanent and ever changing your guide often has to scout out a new crevasse or moulin for climbing each time. With this strategy we will be flexible and avoid the crowds on the glacier as well.
Your guide will install a massive ice screw and attach a rope to it before you climb up the ice walls or even rappelling into a crevasse and climb out again. Your guide will introduce you in detail to the history of the glacier and tell you how the ice is formed on top of the mountains and make sure you never forget the adventure of your lifetime.
Never been in an ice cave before? No worries! Our certified guides will teach you all you need to know and have you walking safely in this environment. Safety equipment and briefings are provided before each tour.
Don't over think it! Book this tour by selecting a date.
General Information
Included
✓  Certified Glacier Guide
✓  Small Group: 6 persons max
✓  Hiking boots and crampons
✓  Glacier equipment: ropes, helmet, harness, and ice axe
What you need to bring
✓  Warm clothes (first layer)
✓  Waterproof clothing (second layer)
✓  Gloves (necessary to protect your hands) and hat
Meeting Point
We will see you at our meeting point, 30 minutes before departure time at our meeting point. Please note that if you arrive after departure time, your place on the tour can't be guaranteed or refunded.
The meeting point is at our trailer marked Tröll Expeditions in the parking lot of Sólheimajökull where our glacier guides will meet you. You can look up "Troll Expeditions Sólheimajökull" on Google Maps to find the exact location and driving directions  click here.
Driving time to Sólheimajökull from Reykjavík is around o Sólheimajökull from Reykjavík is around 2,5 hours in good road conditions. If you arrive early, you can use the restrooms.
Click on the map for the exact location and directions.
FAQ
What should I wear for glacier tours?
Weather in Iceland is very unpredictable. For tours during winter: warm clothing as first layer, waterproof jacket with a hoodie, hiking boots with ankle protection and hard sole, a hat and gloves are ideal. For tours during summer, bringing a light rain jacket or a soft shell with a hoodie is in most cases enough protection. Icelanders often say, "If you don't like the weather, just wait 5 minutes". Jeans are not recommended for our trips as they become very heavy, cold and uncomfortable to wear when they get wet.
Do I need hiking boots?
Yes, we encourage bringing hiking boots for glacier tours. They have to hard on the sole and tight around the ankle. If you don't have them, we have them for rent in all sizes in Skaftafell or Sólheimajökull. You can add them to your reservation at the time of booking or rent them on location pay with cash or card. The price is ISK 1,500 per pair. For ice climbing tours, boots are included in the price.
How difficult are glacier hikes?
We offer glacier hiking tours in Skaftafell and one in Sólheimajökull. Both locations either easy or moderate in difficulty. Our tours are considered to be safe for anyone in good physical condition. If you are fit to walk for about an hour on an uneven surface a glacier hike is for you. Longer tours will be more challenging in endurance and some areas of the glacier. We also recommend you remember that we offer all the safety equipment necessary and you will be hiking with a professional and certified glacier guide. If you have specific questions regarding one of our glacier tours, feel free to email us.
If I am pregnant, can I join a glacier hike?
This is a personal choice. We have had pregnant women on our glacier hikes and we always recommend you read the description of the activity to get a better idea. In any case, feel free to contact our Service Team for further questions and concerns.
What if it's raining or snowing?
It rains a lot in Iceland, but we do not let rain stop us from going out and enjoy nature. All we need to do is choose our clothing wisely, which is why we recommend wearing waterproof clothing as the second layer. Of course, safety is our #1 priority. In case of extreme weather conditions, we will cancel our tours and do our best to reschedule. In these cases, you'll receive a full refund.