Skaftafell Blue Ice Cave Adventure & Glacier Hike
Join this adventure tour where you will experience all the fantastic features of a glacier; you will hike up an outlet of Vatnajökull glacier, Europe's largest glacier, where you'll have the once-in-a-lifetime opportunity to enter a crystal blue ice cave, one of the rarest natural phenomena that human eyes have ever encountered.
Highlights
✓ Visit to a Natural Ice Cave ✓ Hike on Vatnajokull, Europe's Largest Glacier, ✓ Views of Ice Formations, ✓ Small Group Experience, … and more
Included
✓ Guided Ice Cave Tour, ✓ All Necessary Equipment, ✓ English Speaking Certified Glacier Guide, … and more.
Are you ready for the adventure?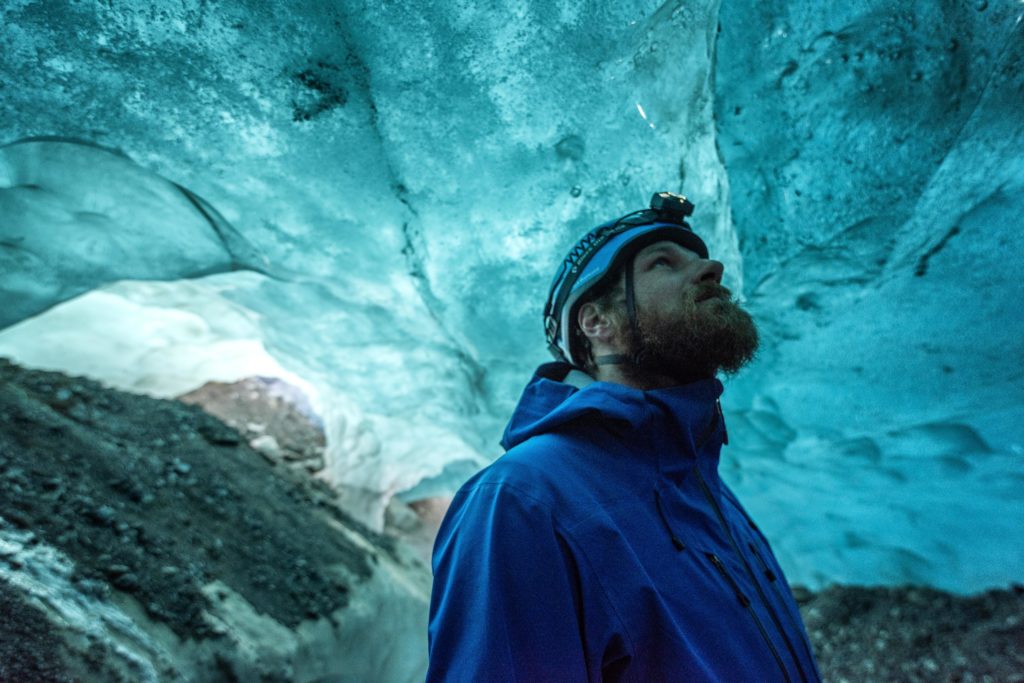 Tour Description
Join this adventure tour where you will experience all fantastic features of a glacier; you will hike up an outlet of Vatnajökull glacier, Europe's largest glacier, where you'll have the once in a lifetime opportunity to enter the blue ice cave, one of the rarest natural phenomena that human eyes have ever encountered.
You will meet your experienced glacier guide by our office at Skaftafell Terminal by the main road. Skaftafell is a beautiful nature reserve in south-east Iceland, filled with spectacular natural wonder. You will explore one of these wonders today in a tongue or the larger Vatnajökull.
Your friendly guide will give you the equipment needed to scale the glacier, such as crampons, a helmet with headlamps, and an ice cave. Don't worry if you've never been glacier hiking before; the guide will go over a safety briefing. You will then be taken to the roots of the ice cap so you can begin your excursion.
Vatnajökull is not only Europe's largest glacier, but it is also home of the highest mountain range in Iceland and the tallest peak in the country, Hvannadalshnúkur. During the glacier walk, you will be exploring breathtaking ice formations and moulins while learning how glaciers are formed and how they constantly change.
The most breathtaking feature you will see today will undoubtedly be the naturally formed ice cave. You will be able to walk inside this dazzling structure to see the fantastic blue ice found within. Remember to bring your camera along on this tour; you will surely want to capture this moment on film.
Lace up your hiking boots and get ready for an incredible journey up and inside a glacier with this fantastic Ice Caving and Glacier Hiking tour in Skaftafell Nature Reserve. Book now to secure your spot. Check availability by choosing a date.
Never been in an ice cave before? No worries! Our certified guides will teach you all you need to know and have you walking safely in this environment. Safety equipment and briefings are provided before each tour.
Don't over think it! Book this tour by selecting a date.
General Information
Included
✓  Certified Glacier Guide
✓  Small Group (12 persons max)
✓  Glacier & Ice Cave Equipment: helmet, harness, crampons, ice axe, and headlamps
What you need to bring
• Hiking boots (available for rent online and on location)
• Warm clothes (first layer)
• Waterproof clothing (second layer)
• Gloves and hat
Good to know
• This tour is suitable for both single travelers and families.
• Ice caves are a dynamic natural phenomena only accessible during wintertime when temperatures drop. Each year new unique caves are formed in different areas of the glacier. We visit a naturally formed ice cave during this tour. The photos are from this winter season, but the cave and other formations we visit might have changed due to the nature of formations.
Local advice
• If you are driving in the area, check Hotel Skaftafell for accommodation and/or dinner. You can also try flying over the glacier with Atlantsflug/Flightseeing
Meeting Point
We will see you at our meeting point 20 minutes before the departure time stated on your ticket. Please note that if you arrive after departure time, your place on the tour can't be guaranteed or refunded.
The meeting point is Skaftafell Terminal by the main road. You can look up "Skaftafell Terminal" on Google Maps to find the exact location and driving directions.
Driving time to Skaftafell from Reykjavík is around 4 hours and 30 minutes. If you arrive early, you can visit Skaftafell Terminal which offers free parking and has restrooms.
Click on the map for the exact location and directions.
FAQ
What should I wear on the tours?
Weather in Iceland is very unpredictable. For tours during winter: warm clothing as first layer, waterproof jacket with a hoodie, hiking boots with ankle protection and hard sole, a hat and gloves are ideal. For tours during summer, bringing a light rain jacket or a soft shell with a hoodie is in most cases enough protection. Icelanders often say, "If you don't like the weather, just wait 5 minutes". Jeans are not recommended for our trips as they become very heavy, cold and uncomfortable to wear when they get wet.
Do I need hiking boots?
We encourage bringing hiking boots for glacier tours. They have to hard on the sole and tight around the ankle. If you don't have them, we have them for rent in all sizes in Skaftafell or Sólheimajökull. You can add them to your reservation at the time of booking or rent them on location pay with cash or card. The price is ISK 1,500 per pair. For ice climbing tours, boots are included in the price.
How difficult are glacier hikes?
We offer glacier hiking tours in Skaftafell and one in Sólheimajökull. Both locations either easy or moderate in difficulty. Our tours are considered to be safe for anyone in good physical condition. If you are fit to walk for about an hour on an uneven surface a glacier hike is for you. Longer tours will be more challenging in endurance and some areas of the glacier. We also recommend you remember that we offer all the safety equipment necessary and you will be hiking with a professional and certified glacier guide. If you have specific questions regarding one of our glacier tours, feel free to email us.
If I am pregnant, can I join a glacier hike?
This is a personal choice. We have had pregnant women on our glacier hikes and we always recommend you read the description of the activity to get a better idea. In any case, feel free to contact our Service Team for further questions and concerns.
What if it's raining?
It rains a lot in Iceland, but we do not let rain stop us from going out and enjoy nature. All we need to do is choose our clothing wisely, which is why we recommend wearing waterproof clothing as the second layer. Of course, safety is our #1 priority. In case of extreme weather conditions, we will cancel our tours and do our best to reschedule. In these cases, you'll receive a full refund.