Snaefellsnes, the Hidden Gem of the West | Small Group & Free Delicatessen
Come on an unforgettable journey with a small group and an experienced guide to the Snaefellsnes peninsula. This area is known as "Iceland in miniature" as it is characterized by magnificent and picturesque sites: glacial-carved mountains, endless black beaches, moss topped lava fields, volcanic craters, coastal cliffs topped off by the volcanic glacier Snæfellsjökull and the Center of the Earth.
Highlights
✓ Kirkjufell, "the Church Mountain" & Kirkjufellfoss waterfall ✓ Búðakirkja, "the Black Church of Búðir" ✓ Ytri-Tunga Beach and Seal Colony ✓ Snæfellsjökull Glacier (sightseeing) ✓ Arnarstapi Fishing Village & Hellnar Arch ✓ Lóndrangar and Basalt Cliffs ✓ Djúpalónssandur Beach ✓ Saxhóll Crater ✓ Ólafsvík Fishing Village
Included
✓ Wi-Fi and Icelandic music on board, ✓ Small Group Experience, And more…
Are you ready for the adventure?

Tour Description
The adventure begins when the minibus picks you up in Reykjavík from your designated location. After that, you'll be headed to all the wonders that the Hidden Gem of the West, the peninsula of Snæfellsnes has to offer.
Kirkjufell, "The Church Mountain", and Kirkjufellfoss waterfall
This iconic narrow mountain has become the landmark of Snæfellsnes in recent years. It became famous after being presented as the "Arrowhead Mountain" on Game of Thrones. The erosive powers of the glaciers during the last ice age about 12,000 years ago gave this mountain its shape. Due to this unique look, it is one of the most photographed sights in Iceland and just across you will see the beautiful waterfall Kirkjufellsfoss which completes your perfect shot of the mountain. There are numerous vantage points for the perfect photograph and our guides know them all!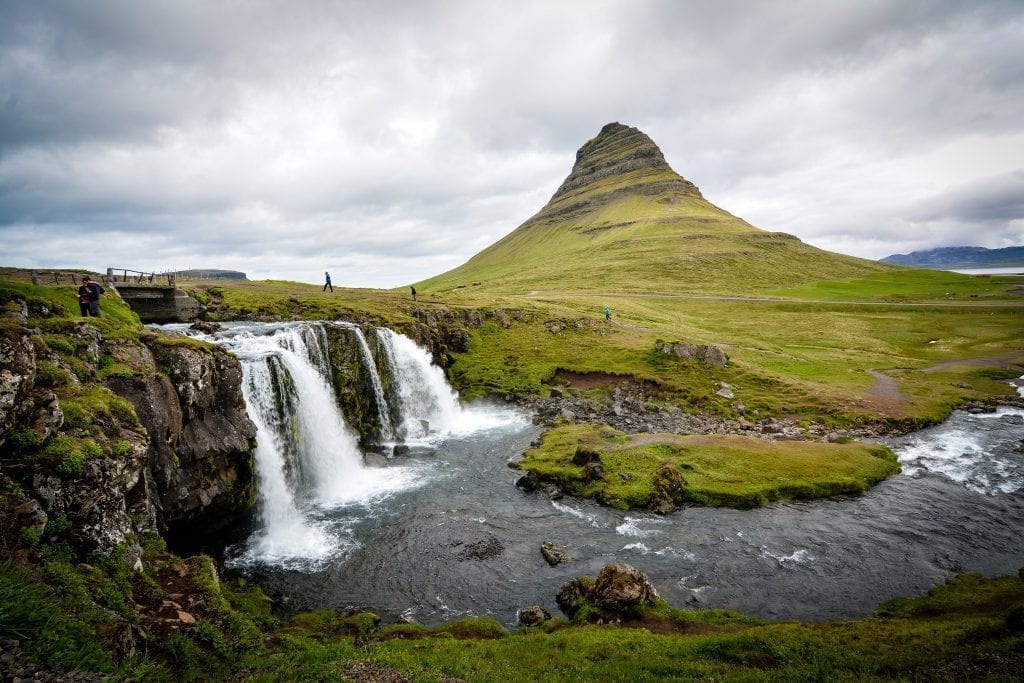 Búdakirkja, the Black Church of Búdir
On the south coast of the peninsula, there's a village with only a hotel and a tiny black church called the Búdakirkja that sits alone among a field of lava rocks. Búdakirkja was built on the spot in 1703 and reconstructed in 1987 after a claim by a single member that lobbied to have it back. It has an historic graveyard, a bell and chalice from the time it was erected. It is a listed building, owned by the National Museum of Iceland, but it is in the care of the Búdir parish. Without a doubt, this picturesque chapel has a romantic air about it and is a real attraction to the site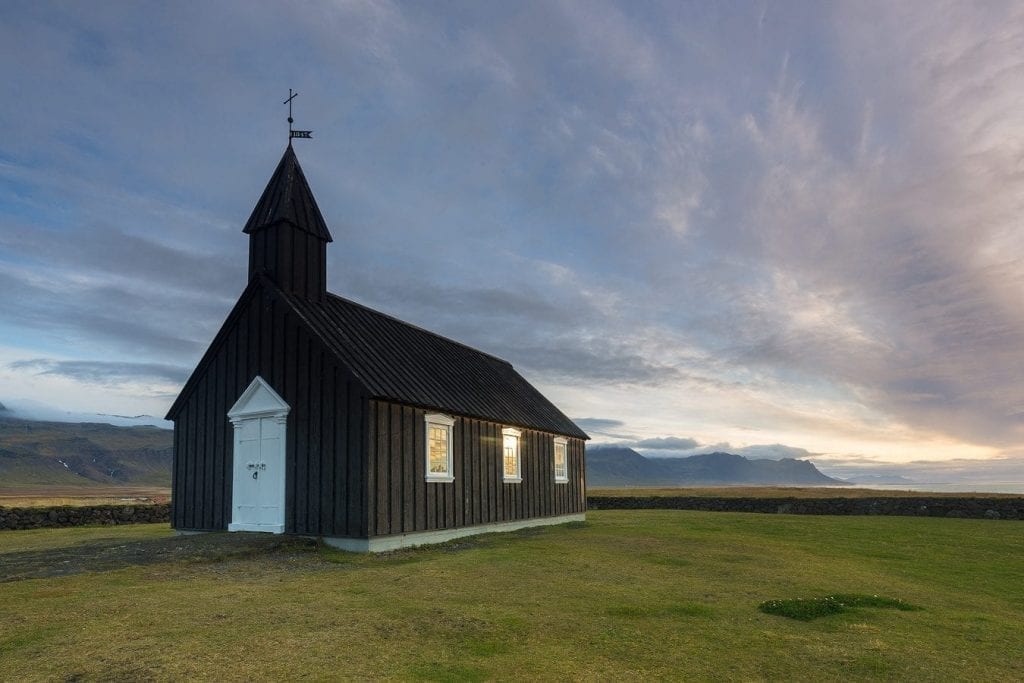 Arnarstapi Fishing Village, Hellnar & Arch
This tiny fishing village has picturesque coastal cliffs which derived from glowing magma hitting the wild waves of the Atlantic. Known in Iceland as the most beautiful harbor of the country. Thousands of years later erosion has formed beautiful stone arcs and a remarkable marine geyser. Enjoy a walk along the coastline while your guide tells you all about Bárður, half-man half-troll, and his misdeeds in the area.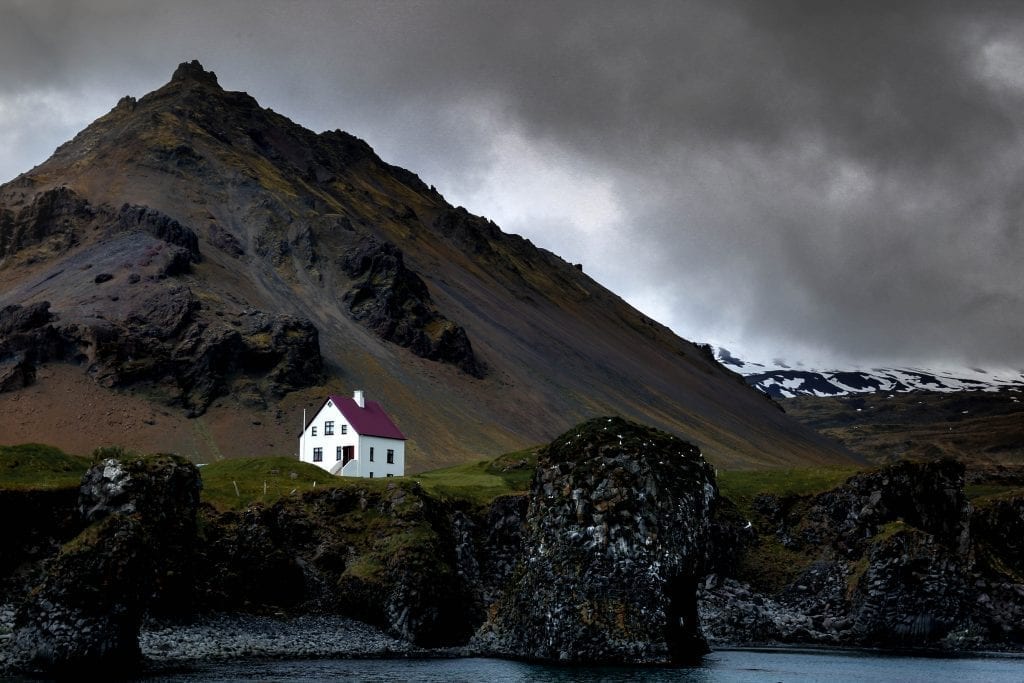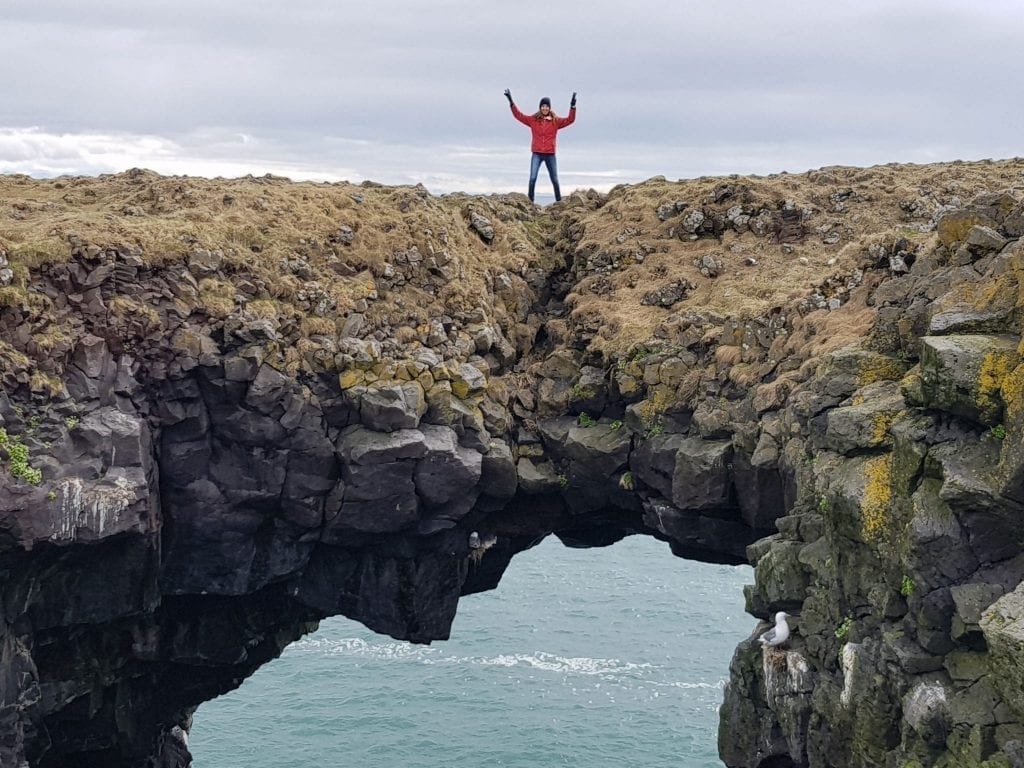 Ytri Tunga beach and seal colony
Ytri-Tunga is a sandy beach that has a little secret hidden away down by the sea, behind the farmhouses… a seal colony! Seals love to spend their time on the rocks of this beautiful beach. They are friendly and curious and will climb up on the rocks for you to spot them from a distance.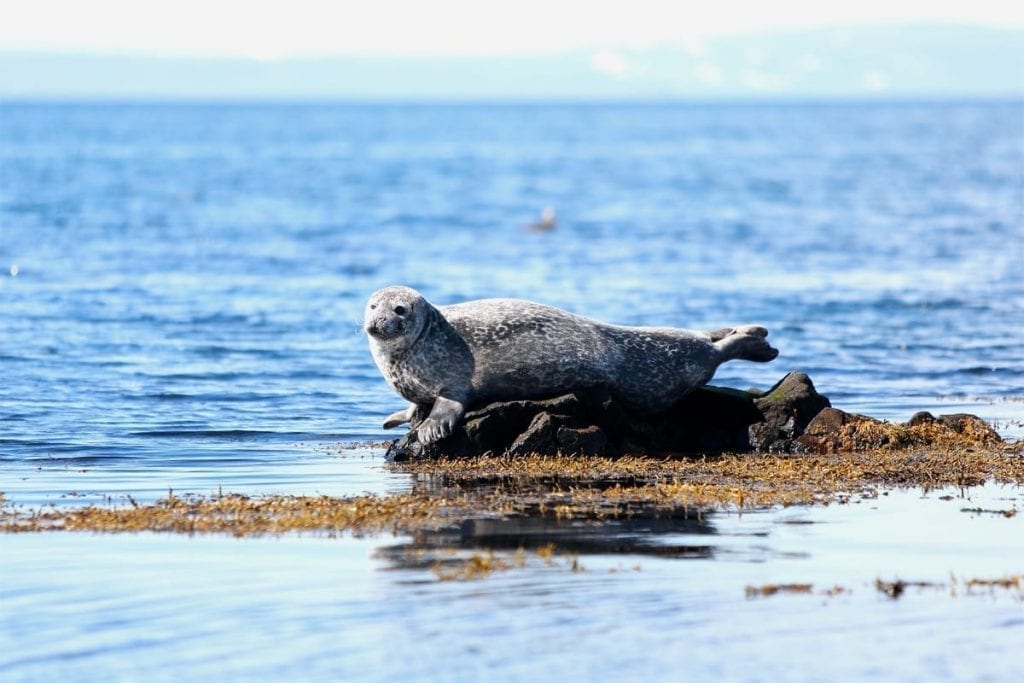 Lóndrangar and Basalt Cliffs
The Lóndrangar are a pair of rock pinnacles in Iceland and are remnants from a bigger crater which has mostly eroded away. Looming over the entire southern coastline, Lóndrangar, a set of 75-meter high basalt pinnacles set the tone for what's to come. They host a variety of seabirds, northern fulmars and puffins, and others.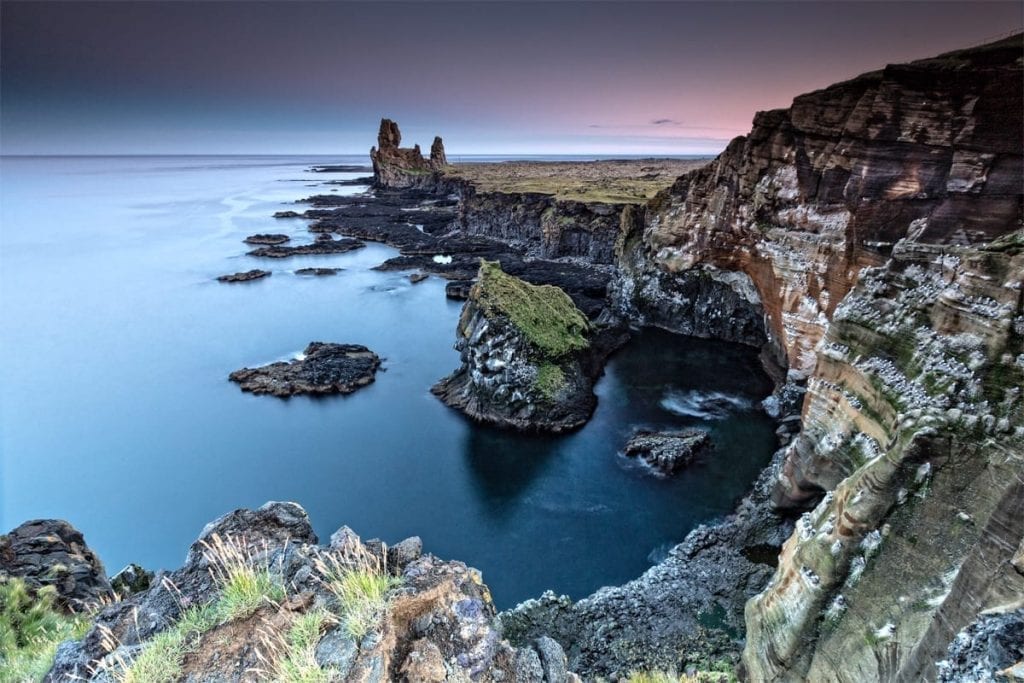 Djúpalónssandur, beach of black volcanic sand
A beach of black volcanic sand and stones where for centuries Icelandic fishermen rowed out to the fertile fishing grounds of the Atlantic ocean. Still today we find the so-called "lifting stones" which fishermen of yore used to test out their strength and prove themselves worthy of the physically straining life of Atlantic rowboat fishing. You can try to lift them yourself! In 1948 a British fishing trawler stranded on the sand reefs of Djúpalónssandur. Five men perished while 14 were rescued by local rescue squads. The remains of the ship are still there, strewn across the beach as an eerie reminder of the awesome power of nature.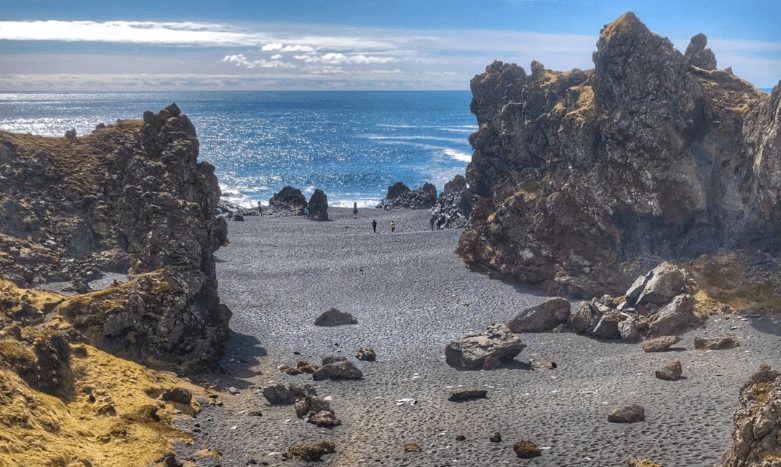 Saxhóll Volcanic Crater
Formed over 4,000 years ago, this volcanic crater has now been made accessible via an iron staircase giving you the option of hiking it. The hike is not too challenging and gives you a 360° view of the lava fields with Snæfellsjökull glacier looming over.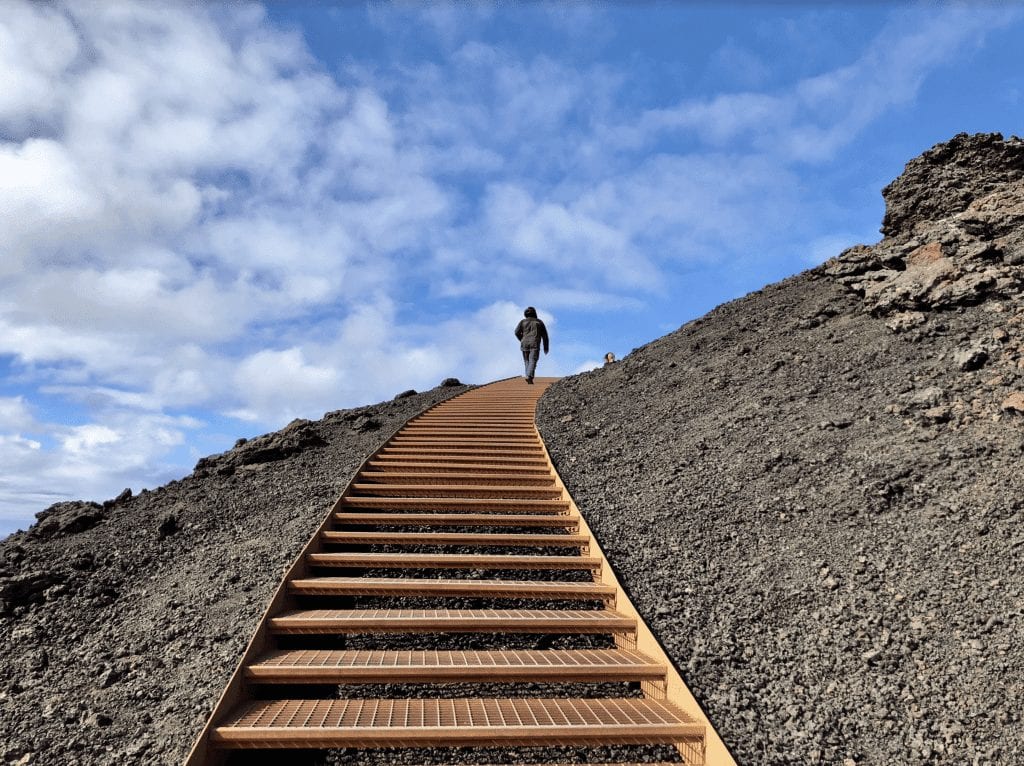 The adventure ends when your guide drops you off Reykjavík at designated location and then you can go home to tell all tours friends about the wonders that Western Iceland has to offer.
Are you ready to explore the most sci-fi-esque area of the country? Would you like to see black churches, volcanic beaches, and the most photographed sight of Iceland, Kirkjufell, the "Church mountain"? If any of the above ticks your box, then there's nothing to wait for! 
What are you waiting for? Book by selecting the date.
General Information
Highlights
✓ Kirkjufell, "the Church Mountain" & Kirkjufellfoss waterfall
✓ Búðakirkja, "the Black Church of Búðir"
✓ Ytri-Tunga Beach and Seal Colony
✓ Snæfellsjökull Glacier (sightseeing)
✓ Arnarstapi Fishing Village & Hellnar Aarch
✓ Lóndrangar and Basalt Cliffs
✓ Djúpalónssandur Beach
✓ Saxhóll Crater
✓ Ólafsvík Fishing Village
Included
✓ English speaking guide
✓ Small group on the Minibus (max 21 persons)
✓ Wi-Fi and Icelandic music on board
What you need to bring
• Warm clothes (first layer)
• Waterproof clothing (second layer)
• Hiking boots (available for rent when booking)
• Joy and happiness!
Good to know
• We have to adjust timings to the short daylight and we always try to avoid big crowds.
• Pick up is from designated locations in Reykjavík. Pick up from Keflavík airport or outside of the greater capital area is not available.
• You will see the designated pick up locations in Reykjavík on a drop-down menu at the time of booking.
• You can bring some favorite snacks and beverages if you like.
• We recommend you bring hiking boots with slip-resistant soles if you are visiting in the winter. Hiking boots are available at the time of booking.
Map
Follow the path to the tour to explore the wonders of Iceland in miniature, the Snæfellsnes peninsula!
FAQ
How does pick up work?
For tours that state that they pick up from Reykjavík, we ask all our customers to send their pick up location at least 24 hours prior to the departure of their tour. We cannot be responsible if you do not provide your pick up location, we won't be responsible if you miss your tour. We offer free pick-up from Reykjavik city center. Pick up starts at the scheduled departure time for the tour can take up to 30 minutes. We ask our passenger to be ready in their listed location so they can be easily found.
What are designated pick up locations?
Due to regulations of Reykjavik City, tour companies are allowed to stop at certain designated bus stop locations in the city centre to pick up passengers. It is stated on your voucher whether we will pick you up directly from your accommodation or from the bus stop.
How can I find the nearest designated pick up location?
Find the closest designated pick up location using the map below: