Glacier Hiking and South Coast from Reykjavík
Join this expedition to the South Coast with a hike on Sólheimajökull glacier. We make stops at the Kodak-moment machine Seljalandsfoss waterfall, its neighbor the majestic Skogafoss, then we head to the mighty waves of the Atlantic Ocean at Reynisfjara beach, also known as The Black Sand Beach. Did we mention we will also walk on top of Sólheimajökull glacier? Wait no more and hop on this minibus with the trölls to the south shore of Iceland.
Highlights
✓ Seljalandsfoss waterfall ✓ Skógafoss waterfall ✓ Glacier Hike on Sólheimajökull glacier ✓ Reynisfjara, The Black Sand Beach
Included
✓ Wi-Fi and Icelandic music on board, ✓ Small Group Experience, ✓ Glacier Hiking Guided Tour And more…
Are you ready for the adventure?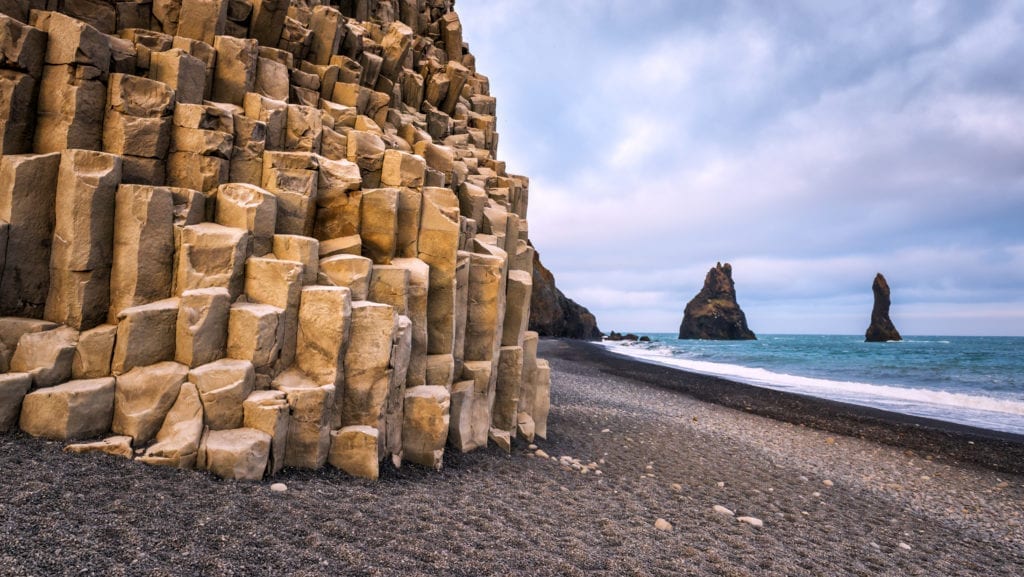 Tour Description
Your adventure begins when your experienced guide picks you up in a comfortable minibus in the morning and whisks you off to the scenic South Coast.
Seljalandsfoss Waterfall
The first stop is at Seljalandsfoss waterfall which you can walk behind and get a unique point of view while feeling the vibrations of the water hitting the ground. It's an automatic Instagram blockbuster. Right next to Seljalandsfoss is his little brother Gljúfrabúi, a smaller waterfall hidden in a narrow gorge which is accessible only by balancing on small stones in the river.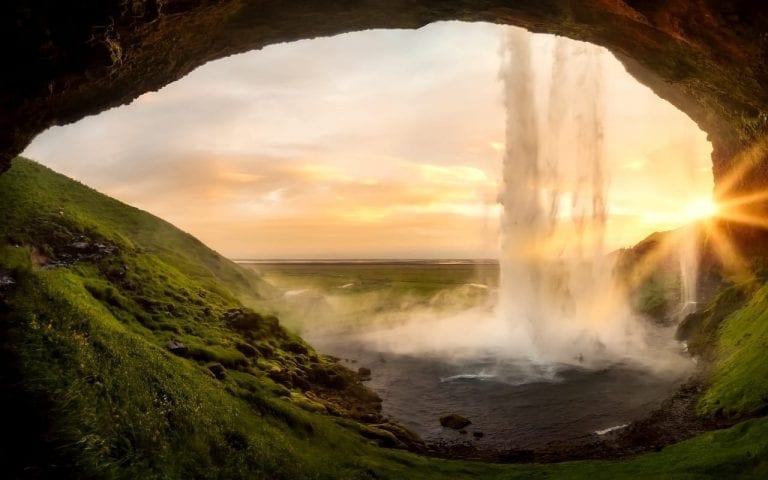 Skógafoss Waterfall
The pearl of the South Coast has to be Skógafoss waterfall. From the 60 meter high cliffs of East Eyjafjöll mountains, the waterfall pours down making, arguably, the most photogenic waterfall in the country. Over the years, the water has carved itself into the mountain, tucking the beautiful waterfall into a small gorge. Add rainbows forming in the waterfall's spray and you have yourself a Kodak moment. Along side the waterfall lies a staircase up to the cliff with views looking down into the gorge and onto the waterfall. The 527 steps up to the top provide a fantastic warm-up for the glacier hike!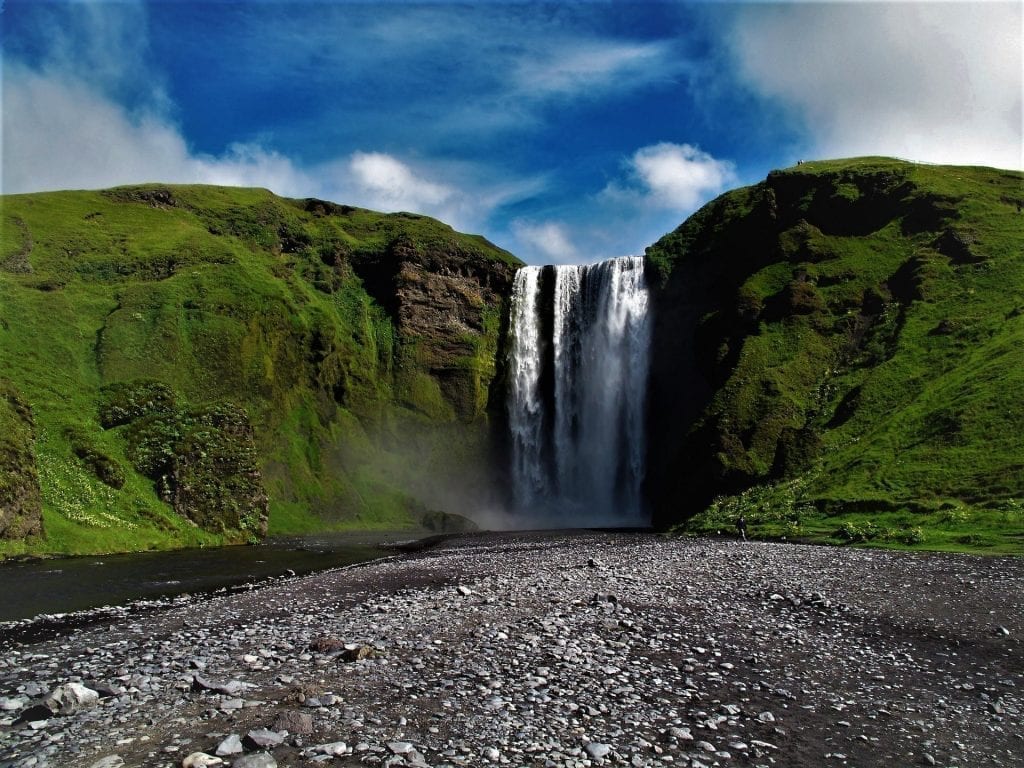 Glacier Walk on Sólheimajökull Glacier
Here the adventure continues at Sólheimajökull glacier which is part of the 4th biggest glacier in Iceland, Mýrdalsjökull. We will provide helmets, harnesses, crampons and ice axes before hiking on the ice for 1 to 1,5 hours. Our glacier guides are all trained and licensed and provide a safe, entertaining and informative hike. A spectacular experience to learn more about this breathtaking and increasingly rare natural phenomenon.
Reynisfjara, the Black Sand Beach
Heading further east, we visit the black sand beach of Reynisfjara where the Atlantic coastline presents massive waves hitting the unique basalt columns in the cliffs above the sand. Rock pillars in the water and the cliffs of Dýrhólaey are seen in the distance. This area of the south is also a paradise for bird lovers, as puffins and dozens of other unique species nest on top of these cliffs in the summertime from June to August.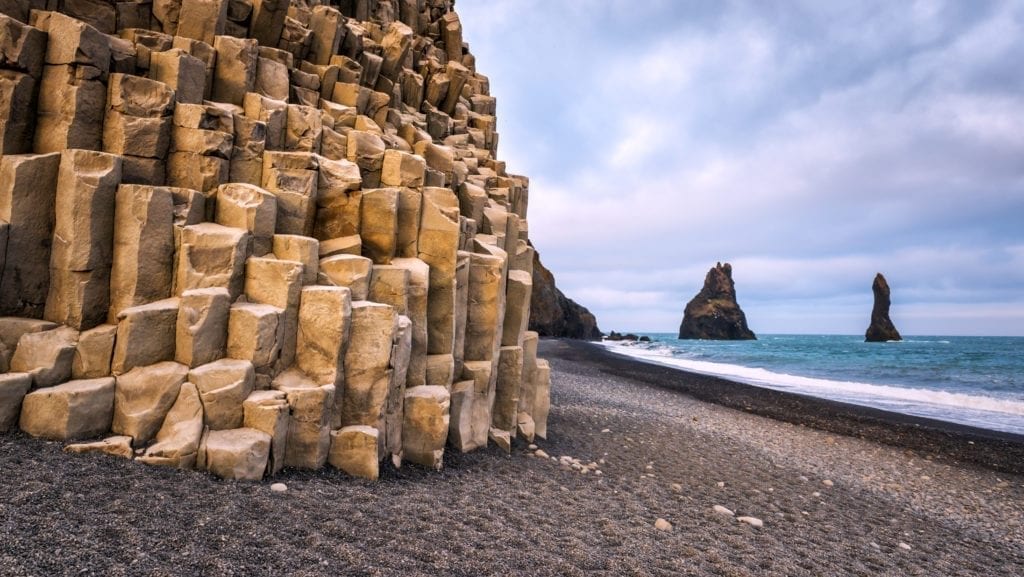 Are you ready to join us for this incredible adventure? We are steering clear of the crowds while packing a full day of incredible experiences in this once in a lifetime opportunity to see all the powerful southern waterfalls, hike on top of a glacier, and see beaches with black sand – all in one day!
Don't over think it! Book this tour by selecting a date.
General Information
Highlights
✓  Seljalandsfoss waterfall
✓  Skógafoss waterfall
✓  Glacier Walk on Sólheimajökull glacier
✓  Reynisfjara, The Black Sand Beach
Included
✓  English Speaking Guide
✓  Certified Glacier Guide
✓  Small Group on a Minibus (21 persons max)
✓  Wi-Fi and Icelandic music on board
✓  Glacier Equipment: helmet, harness, crampons, and ice axe
What you need to bring:
• Hiking boots (available when booking)
• Warm clothing (first layer)
• Waterproof clothing (second layer)
Good to know
• We have to adjust timings to the short daylight and we always try to avoid big crowds.
• Pick up is from designated locations in Reykjavík. Pick up from Keflavík airport or outside of the greater capital area is not available.
• You will see the designated pick up locations in Reykjavík on a drop-down menu at the time of booking.
• You can bring some favorite snacks and beverages if you like.
• We recommend you bring hiking boots with slip-resistant soles if you are visiting in the winter. Hiking boots are available at the time of booking.
Map
Follow the route to the perfect tour to the South!
FAQ
How does pick up work?
For tours that state that they pick up from Reykjavík, we ask all our customers to send their pick up location at least 24 hours prior to the departure of their tour. We cannot be responsible if you do not provide your pick up location, we won't be responsible if you miss your tour. We offer free pick-up from Reykjavik city center. Pick up starts at the scheduled departure time for the tour can take up to 30 minutes. We ask our passenger to be ready in their listed location so they can be easily found.
What are designated pick up locations?
Due to regulations of Reykjavik City, tour companies are allowed to stop at certain designated bus stop locations in the city centre to pick up passengers. It is stated on your voucher whether we will pick you up directly from your accommodation or from the bus stop.
How can I find the nearest designated pick up location?
Find the closest designated pick up location using the map below: